Listique is proud to recommend sustainably produced caviar whose carbon footprint is minimal from a fish farm that is situated in gorgeous rural Yorkshire. Our partners provide caviar that is becoming the preferred choice of some Michelin Starred chefs. The roe is collected using techniques that cause minimum distress to the sturgeon. Furthermore, the working fish, whose natural lifespan is between 60 and 100 years in the wild, are retired at the age of 25, thus allowing them a long and happy life. Covering an extensive range of luxury sectors in London, Listique's esteemed directory actively promotes suppliers who meet strict standards on a wide range of factors: quality, taste, sustainability, carbon emissions, waste and environmental impact. The satisfaction that arises from facilitating a platform to showcase truly remarkable products such as UK-bred sturgeon caviar, is wonderful and motivates Listique to move from strength to strength.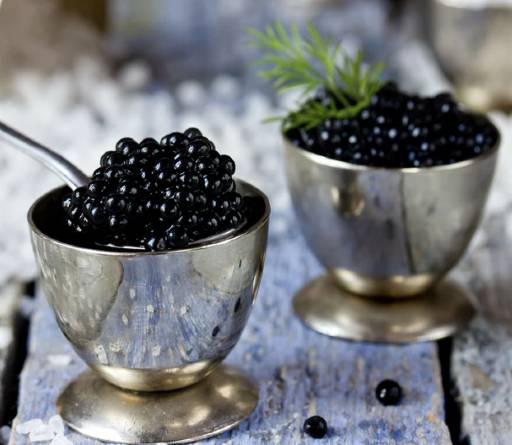 Listique's recommended caviar for Londoners and beyond – the lowdown
As a luxury directory that finds the very best of London's businesses, artisans and services, Listique is keen to promote ethical, sustainable and luxurious fine dining. As well as listing experts such as Emma Trim, whose Beyond Food Consultancy ensures that chefs, housekeepers, high-end caterers and London's most sought after party planners can source the freshest and best-priced produce of the highest quality, Listique also showcases British companies that have invested time, energy and imagination into supplying delicacies such as caviar for clients with refined tastes.
Expect multiple nutritional and health benefits from eating caviar
The nutritional benefits of caviar are numerous, making it a desirable superfood for affluent health-conscious afficionados. With a winning combination of protein, vitamins and minerals, a mouthful of caviar provides an excellent and extremely tasty power boost. Caviar contains no superfluous calories. Furthermore, caviar has a high concentration of Omega 3 which provides the body with its daily recommended amount – without the need to take a supplement! Caviar is high in vitamin B12, thus keeping red blood cells healthy. It also contains vitamin B5 which can regulate cholesterol, reduce migraines, and fend off headaches. During winter months when the body produces less vitamin D due to reduced exposure to sunlight, dietary vitamin D such as the amount provided by caviar can help improve general mental health by combating the depressive effects of this deficiency.
Expect beautiful skin thanks to caviar
Caviar contains selenium, an essential mineral that, when combined with vitamin E (as is the case in caviar), creates a powerful antioxidant that helps skin combat the ravages of age. The ability of caviar to fight against free radicals is no trivial benefit. The damage to skin that is caused by ever present free radicals is clearly explained here and the fact that caviar can support overall cell health and growth by diminishing their effect is something worthy championing about this delicacy.
Expect socially acceptable caviar
The reason why both recent and accomplished devotees of haute cuisine sometimes avoid caviar is due to concern about the provenance of the roe. Nevertheless, caviar connoisseurs have welcomed new methods such as those adopted by partners KC Caviar which allow the female sturgeon to produce many batches of eggs throughout her life time on the farm. In a strictly controlled environment where timing is everything, top quality caviar eggs are harmlessly harvested from the fish. The caviar is clean, pure and does not require preservatives such as Borax to make suitable for commercialization.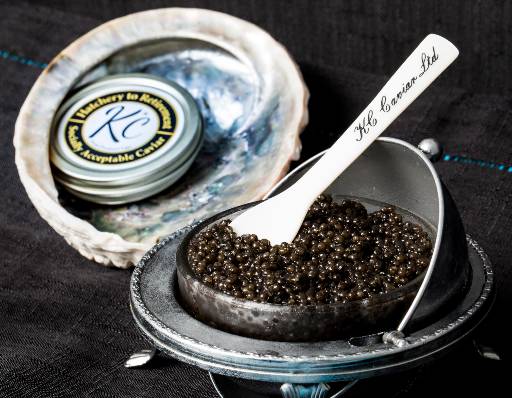 Expect patents
Given that nearly all legal caviar is produced in sturgeon aquaculture, it is understandable that there are many secretly guarded methods that produce caviar from countries as diverse as Madagascar, Russia, United States of America and China. Here in the UK, Listique's partner KC Caviar, a family run business, is beating off fierce competition by adopting a patented method for natural spawning that produces exquisite caviar. True to the no nonsense culture for which Yorkshire is famous, our partner's transparent fish farming technique clearly follows the AWI patent which they are pioneering in Britain. The media recognition they have garnered, such as this report by BBC's Kate Humble, is well-deserved.
Expect future proof and reliable caviar supplies
Sturgeon are a critically endangered species and fishing in the wild is banned in most countries. Yet the demand for caviar increases. The only way to future proof the sector is to invest in the whole lifetime of the fish. This is not only about producing caviar with compassion; it is a solid economic reason for opting for sturgeon farming via aquaculture. The difficulty that many entrepreneurs have faced when entering this market is that sturgeon are slow-growing and need a very long time to reach an age to produce roe. Whilst reaching maturity, the sturgeon are kept in a controlled, environmentally friendly environment, where they are free from natural predators and grow accordingly. Partners like KC Caviar operate a No Cruelty, No Kill policy and also retire the fish early to protected lakes and rivers, thus helping to replenish the wild population.
Expect a cavalcade of caviar appreciation online
By embracing social media and actively seeking chefs who stream their recipes on viewing platforms such as YouTube and Vimeo, caviar producers have expanded the market to upmarket newcomers wishing to have their first taste of this coveted delicacy. Be sure that from innovative serving suggestions such as caviar on crisps or sautéed cauliflower, to practical advice such as the type of utensils to use when handling caviar, Listique's caviar experts provide comprehensive customer service. Their passion for caviar is infectious; their advice is invaluable. Before choosing capers, chives or chervil as a topping, loyal clients often contact their friendly UK-based provider for pointers.
Contact our partners today to order British caviar online. Expect good vibes by mentioning that you first heard about them from Listique.