By Emily Gray
Published 1/12/21
Planning a festive catch up with your friends but don't fancy just going to a bar? In charge of the office party and need an activity which is actually fun? We hear you and so do these six entertainment venues. All feature competitive and fun games which are perfect for groups of friends - they also all have cocktails, not that that will sway you of course!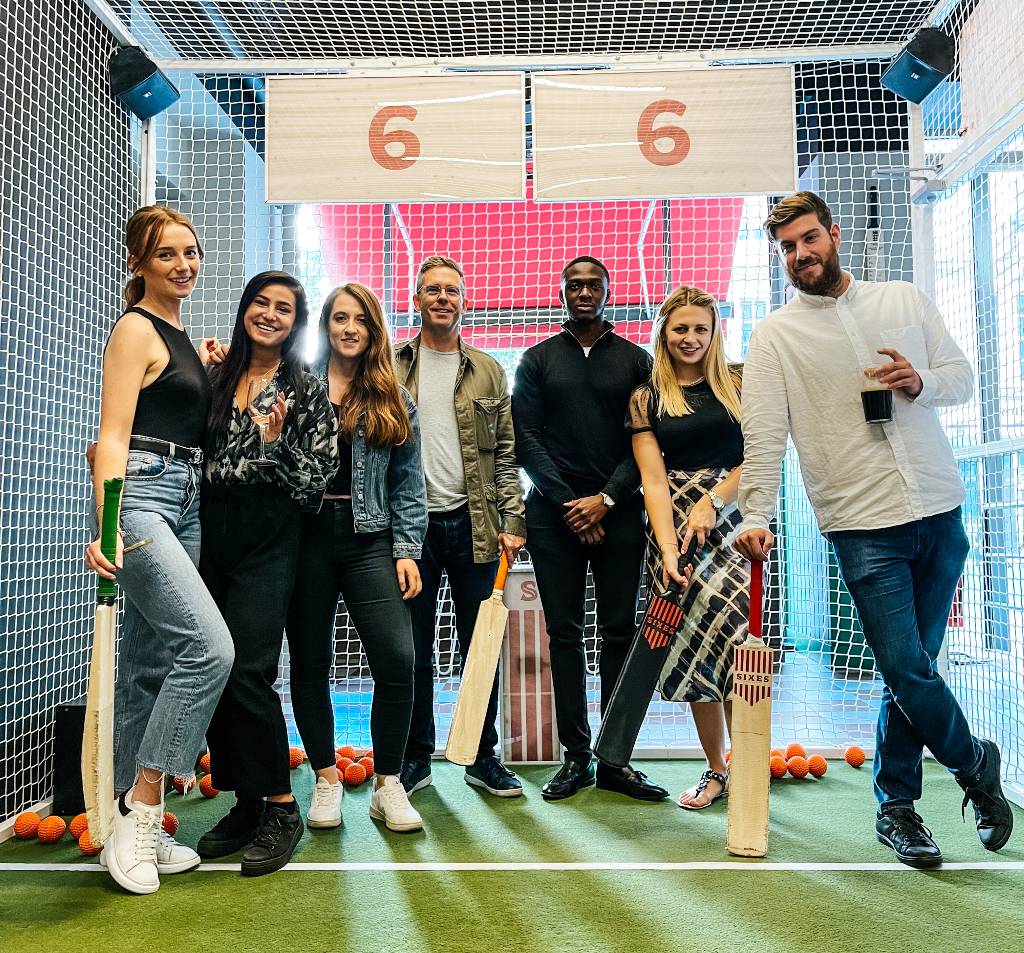 Sixes
Ever wanted to test your batting skills against some of the world's finest bowlers? Daydreamed about playing cricket at world renowned cricket stadiums? Sixes lets you do just that. With locations in Fitzrovia, Fulham, Manchester and Birmingham, Sixes is the world's first social entertainment cricket venue. Choose from batting nets and test your batting skills to see how far you and your friends can climb up the Sixes leaderboard or check out their new VR experience where you can step into a stadium and pretend you're competing in a test match or experience UV cricket with glow in the dark cricket and knockout cocktails to match. Alongside the cricket is a menu of the finest British BBQ dishes including Bone Marrow Flatbread, Burnt End Nuggets, Slow Cooked Ox Cheek and Blackened Venison Chateaubriand with ash baked beets, green sauce, smoked blackberries, horseradish, venison sauce and hasselback potatoes. So good.
Puttshack
Forget everything you know about mini golf, Puttshack has rewritten the rules. Infusing the game with tech, their golf balls automatically track the gameplay, great because you don't need to worry about scorecards, not so great if you're in the habit of cheating - there'll be nowhere to hide! Play to get as many points as you can with featured holes including Beer Pong, where you aim for a beer pong cup and Supertubes worth extra points. So grab a cocktail, get into the Puttshack vibe (think lights down, tunes up) and get ready to party all whilst playing the ultimate round of mini golf in London.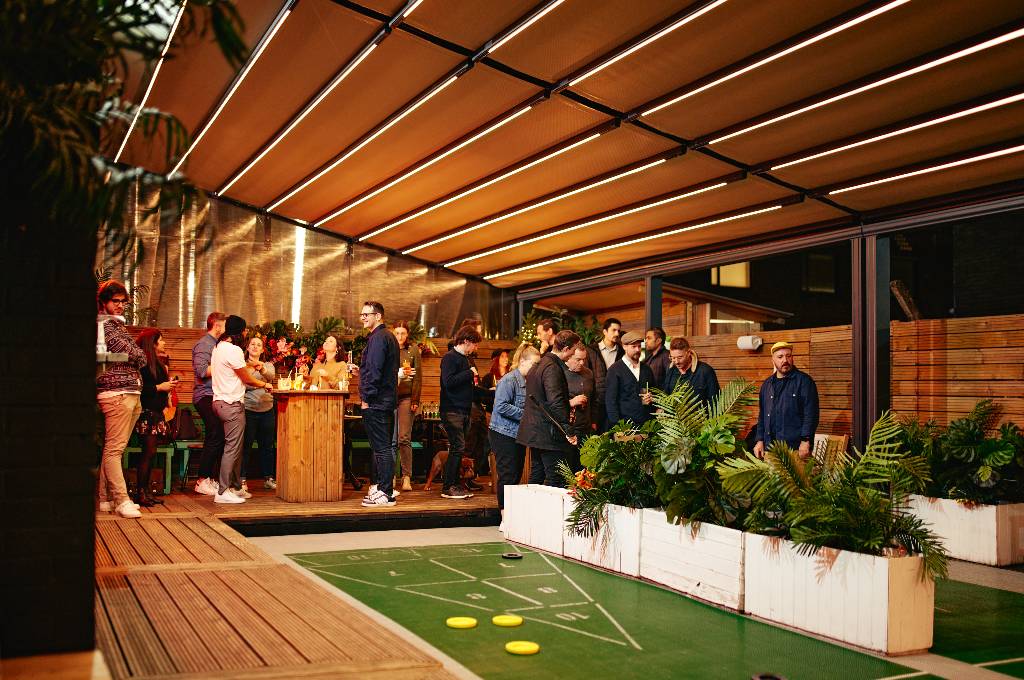 Shuffle Club
Here's a fact for you: shuffleboard has been played since the 15th century, played in great country houses and later transatlantic ships. Now you can play it in the heart of Shoreditch at the London Shuffle Club, no cruise ship needed. Whatever the weather you and your crew can get together for a bottomless brunch or fresh sourdough pizzas, a few drinks and some competitive games of supercharged shuffleboard or table shuffle. Until the 30th January you can experience their winter terrace in collaboration with Absolut. Stay toasty next to the fire pits, sip on Absolut cocktails like The Ginger Snap made with Absolut vodka, ginger syrup and cider and feast on Christmas inspired pizzas like the brilliantly named 'Everyday I'm Brusselin' and finish with toasted s'mores.
Flight Club
Flight Club is the home of 'Social Darts' - think of it as a game of darts in the pubs, but with added cocktails, fresh pizzas and everyone around you going wild when you get a bullseye...or just manage to hit the board. With locations around the country (and in the USA and Australia), London is home to four Flight Club venues: Bloomsbury, Islington, Victoria and Shoreditch, so you're never too far from a game. Want some friendly competition with your mimosas at brunch? Check out their boozy Brunch Social with Social Darts, have an hour of eating and drinking and an hour perfecting your throw.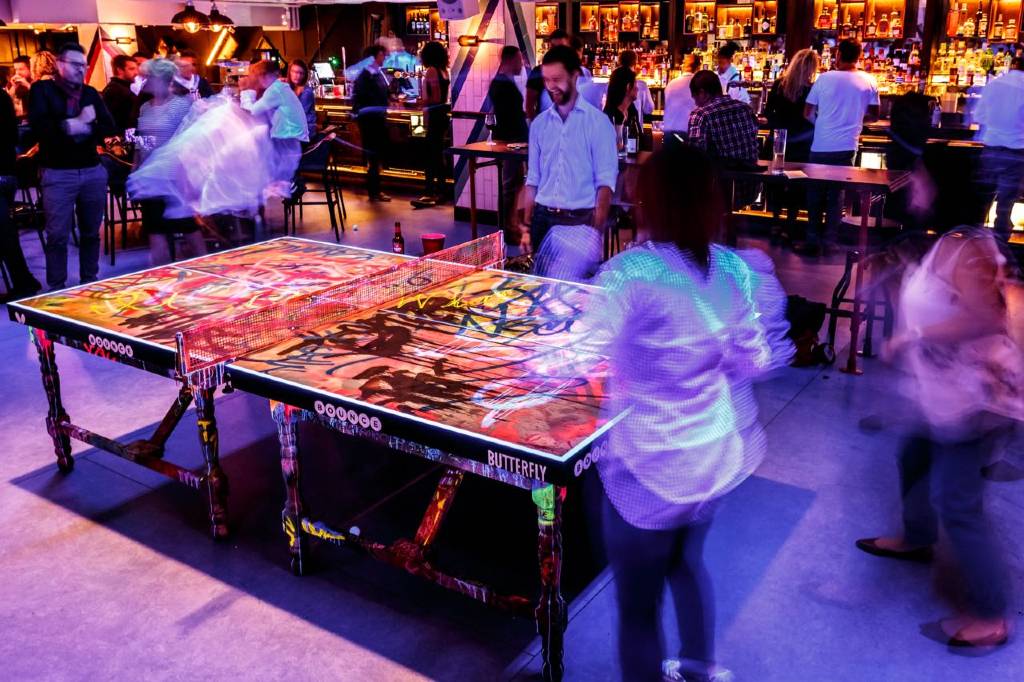 Bounce
Bounce quite literally is the home of ping pong - the original Bounce in Farringdon located on the same site where the game of ping pong was first created and patented in 1901 by Jaques of London! Pretty impressive. The ping pong they play now though is somewhat different from how iit was first imagined...now with their added cocktails, pizza and games of wonderball, shuffleboard and beer pong, it's an absolute party. Grab your pals and head down to Farringdon or their site on Old Street.
Pinbowlz
Having just launched, Pinbowlz, is the new kid on the block. They've taken elements from lawn boules, Pinball and crazy golf, housed it in a Tron like setting in Hackney Central and added cocktails and we're here for it. The aim seems simple, roll the ball along one of the eight unique hand-built lanes and try to roll it up ramps and make jumps into different score zones - it's both addictive and thrilling. For now it is just a pop-up running until January 2022 so you better get there quick.