By Emily Gray
Published 17/11/2021
It's that time of the year again, a season of parties, merriment, feasting and trying to figure out what to get everyone without leaving it to the last minute and clicking on anything that does the same day delivery on Christmas Eve...If you're in need of a little inspiration then check out Listique's 2021 Christmas gift guide: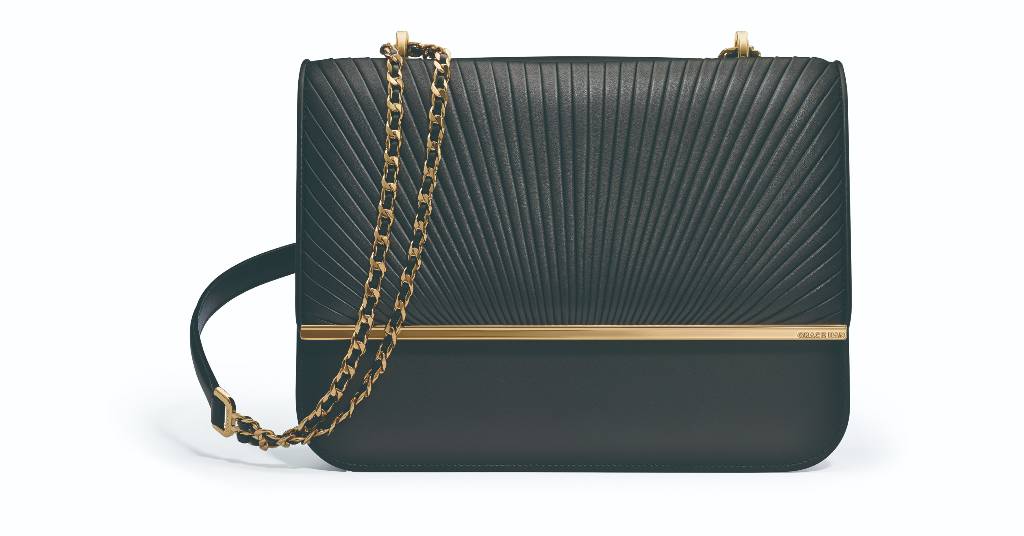 Grace Han
From Grace Han's signature collection, Ballet Lesson, we're pretty sure that the Large Chain Bag is going to be your new signature bag. Featuring the brand's intricate leather pleating pattern that took seven years to perfect, the bag is expertly handcrafted from lambskin and calfskin and features a fixed gold tone shoulder length chain. It has all the space for your essentials whilst looking beautifully elegant.
Ballet Lesson Large Chain Bag Black, £3,495 www.gracehan.shop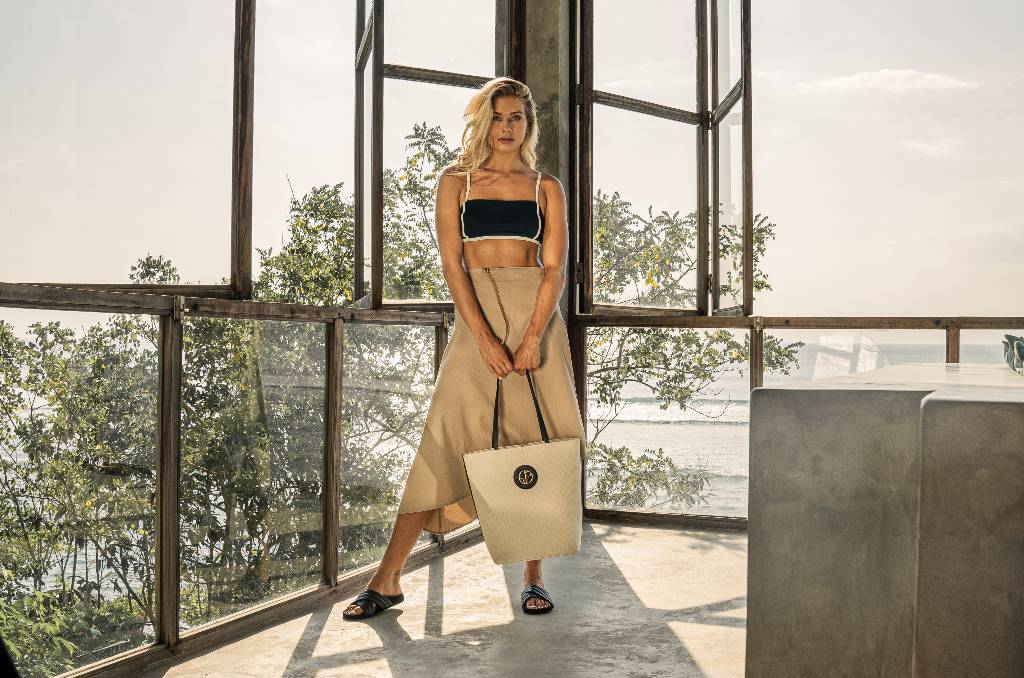 1 People
We can't get enough of 1 People's timeless Monte Carlo MCM tote, it has us dreaming of our next sun drenched getaway. The luxury Danish brand puts people and the planet at the core of everything they do, using primarily recycled materials that are durable and sustainable, offsetting their carbon emissions, and donating 40% of their profits to Business For Planet, a free entrepreneurial program to help educate and empower tomorrow's entrepreneurs about making a positive global impact. So just by buying the bag you're doing your good deed for the day.
Monte Carlo MCM Tote Bag, £139 www.1people.com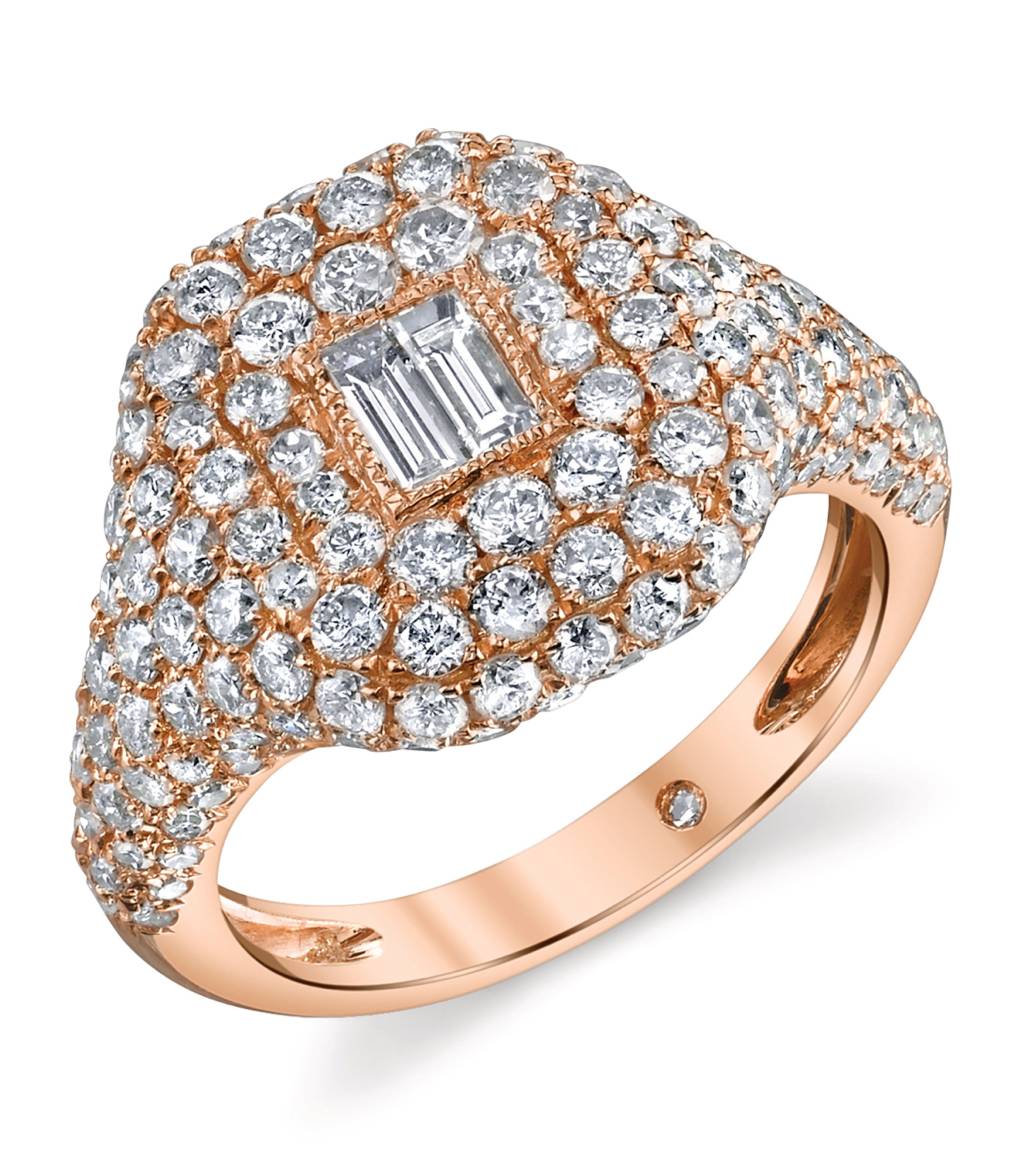 Shay
There's a lot of sparkle in this little ring. Shay has updated the signet ring, doing away with a crest and replacing it with two baguette cuts surrounded by pavé diamonds, cast in 18-karat rose gold. Effortlessly adding glamour to any look, this is one pinky ring we can't get enough of.
Rose Gold Pavé and Baguette Diamond Pinky Ring, £4,775 www.harrods.com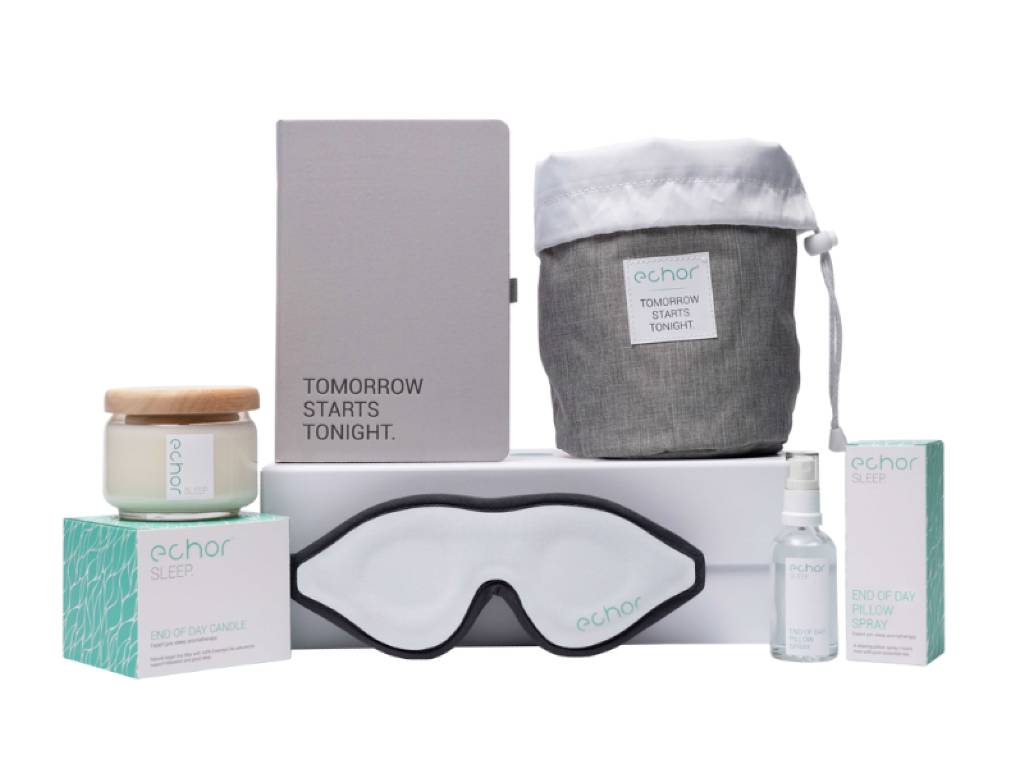 Echor
Know someone who really needs a good night's sleep? Do you need a good night's sleep? Echor's mission is to optimise your wellbeing potential through actually getting proper rest. The Echor 'Mind & Body' Sleep Gift Set includes a collection of their innovative sleep supporting products including 'End of Day' pillow spray made with a 100% pure essential oil blend of lavender, geranium, eucalyptus and sweet orange and their power sleep supplement to support natural melatonin production and improve sleep. And relax…
Echor 'Mind & Body' Sleep Gift Set, £84.99 www.echor.co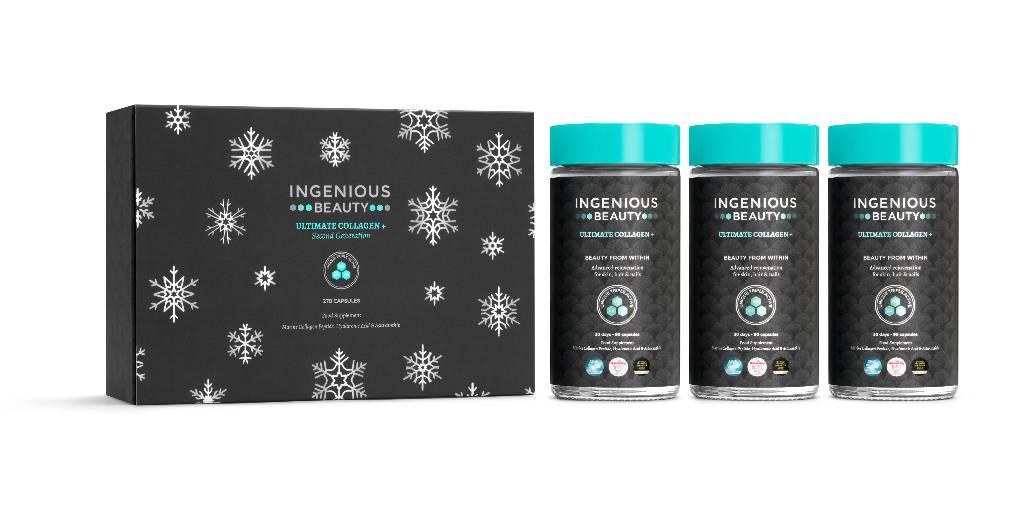 Ingenious Beauty
Looking for some serious skin care? Let us introduce you to the multi-award-winning and highly praised Ingenious Beauty. Their patented collagen capsules protect the collagen peptide as it travels through the stomach so that it can reach the small intestine where it can be absorbed for younger looking skin everyday. And following an independent double blind, placebo controlled randomised trial (said to be the most reliable form of research) 98% of the 116 women saw significant improvement to their skin after 12 weeks. That should help if you're making up for last year and are going to all the Christmas parties.
90-day Collagen Supply, £165, www.feelingenious.com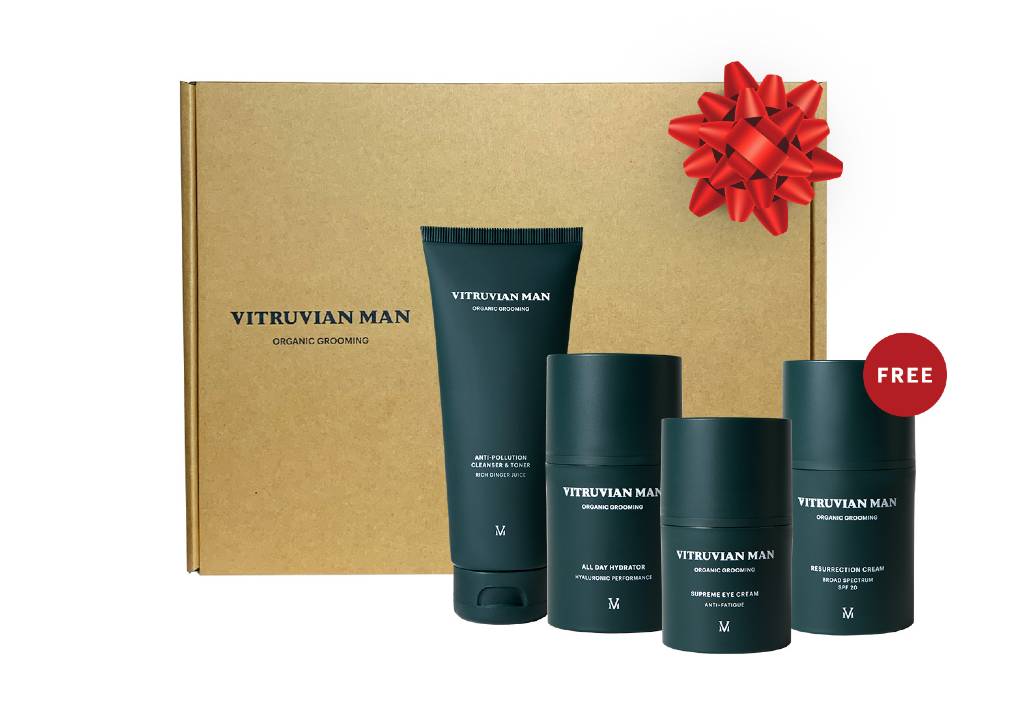 Vitruvian Man
With its natural fragrance designed to calm and relieve stress, Vitruvian Man's collection of skincare and grooming products are made with high-performance organic ingredients that are free from harmful chemicals for healthy skin. Can't decide what to choose? The Christmas Full Bundle includes the Anti-Pollution Cleanser & Toner, Supreme Eye Cream, All-Day Hydrator and a Resurrection Cream SPF 20 - nice one!
Christmas Full Bundle, £122 www.vitruvian-man.com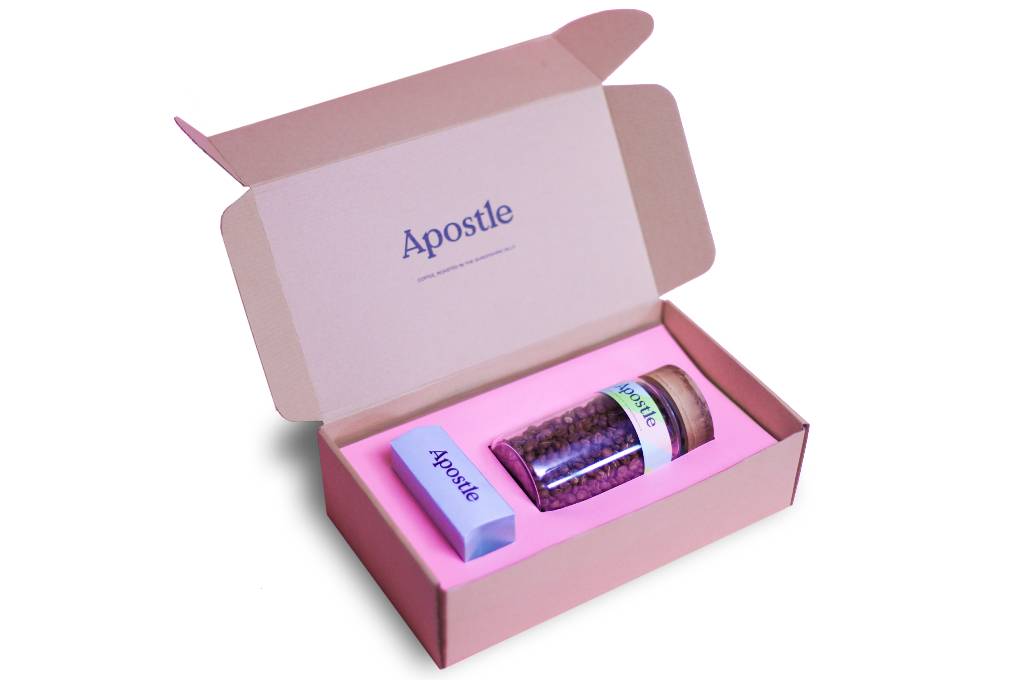 Apostle
How do we want our coffee? Sustainable, fair, ethically sourced, award-winning and delicious. When do we want it? Now, of course but also delivered every four weeks in a handy subscription box. Ok not quite the ring we were after so let's tell you about Apostle. Founded in 2016 the team roast their coffee in an off-grid roastery in the Shropshire Hills and offset any carbon emissions from the transporting of the green beans or roasting process by planting endangered black poplar trees on land surrounding their roastery. Alongside their coffee gifts and boxes they also have three coffee subscriptions: Foundation, Discovery and Exceptional - delivered to your door every four or 2 weeks. That's your caffeine fix sorted every morning.
Apostle Coffee Subscription, from £9.95 www.apostlecoffee.com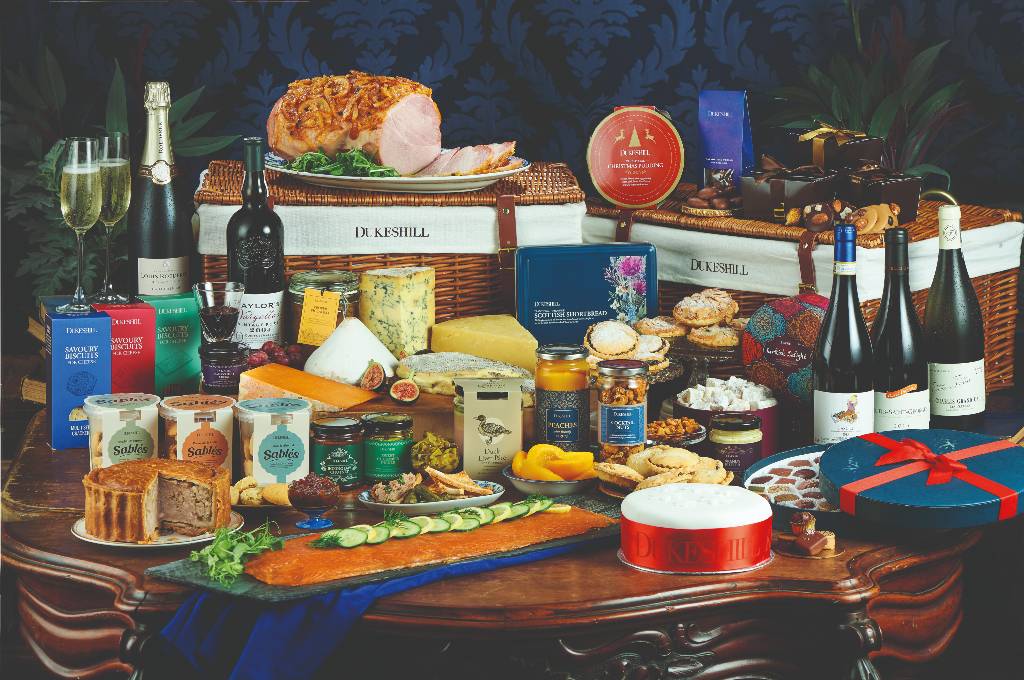 Dukeshill
Every Christmas needs a hamper and this one, from Dukeshill, is, as the name suggests, truly magnificent. In fact it's so magnificent it arrives in two wicker hampers and includes everything from a truly indulgent feast; we're talking three types of mince pies, port, wine, Louis Roederer Brut Premier Champagne, nuts, meats, Christmas cake, biscuits and chutneys - the list is quite extensive. All you need now is to cosy down somewhere with your friends and family and start feasting.
Truly Magnificent Hamper, £795 www.dukeshillham.co.uk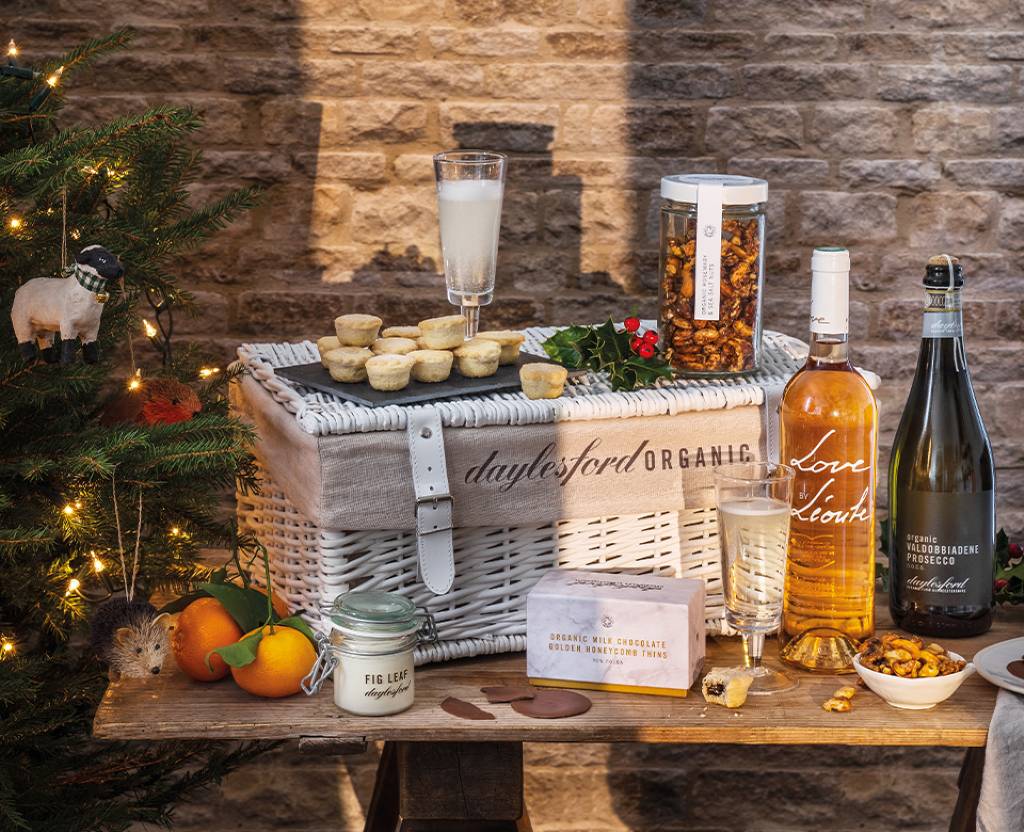 Daylesford
Know someone who always opens a Christmas present early? Who just can't help themselves but sneak a peek at what they've been given? Well this is the present for them. Designed to start the celebrations, Daylesford's new Night Before Christmas Hamper includes mini mince pies, rosemary and sea salt nuts, Prosecco frizzante, Leoube Rose Love, milk chocolate honeycomb things and a fig garden candle. Best consumed around the Christmas tree or in front of a Christmas film, last minute present wrapping optional. Other hampers to choose from include the Truffle Lovers Hamper and the Snowed In Hamper for cosy, indulgent nights in.
Night Before Christmas Hamper, £125 www.daylesford.com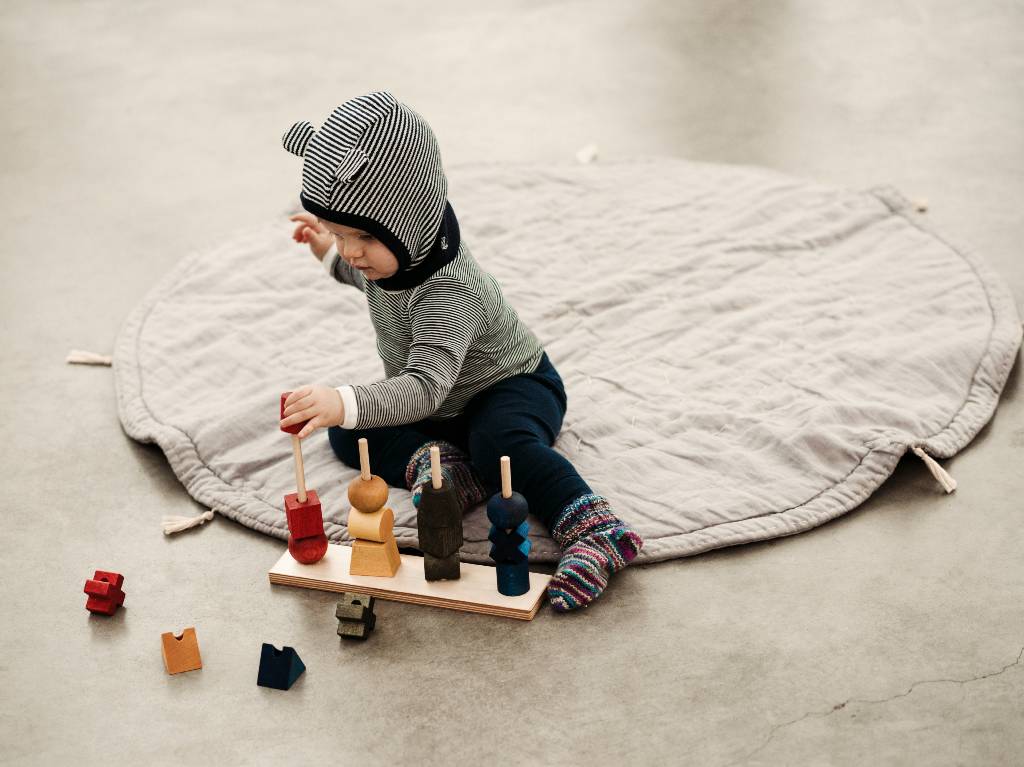 Wooden Story
Made in the Beskidy Mountains in Poland, Wooden Story creates gorgeous wooden toys and furniture for your little ones coloured with all natural eco-certified paints that are free of harmful chemicals and presented in the most beautiful boxes designed to be reused. Choose from the likes of teethers, stacking toys, dolls, cars, rattles and blocks - there's not a garish bit of plastic in sight!
Rainbow Stacking Toy, €33.40 www.woodenstory.pl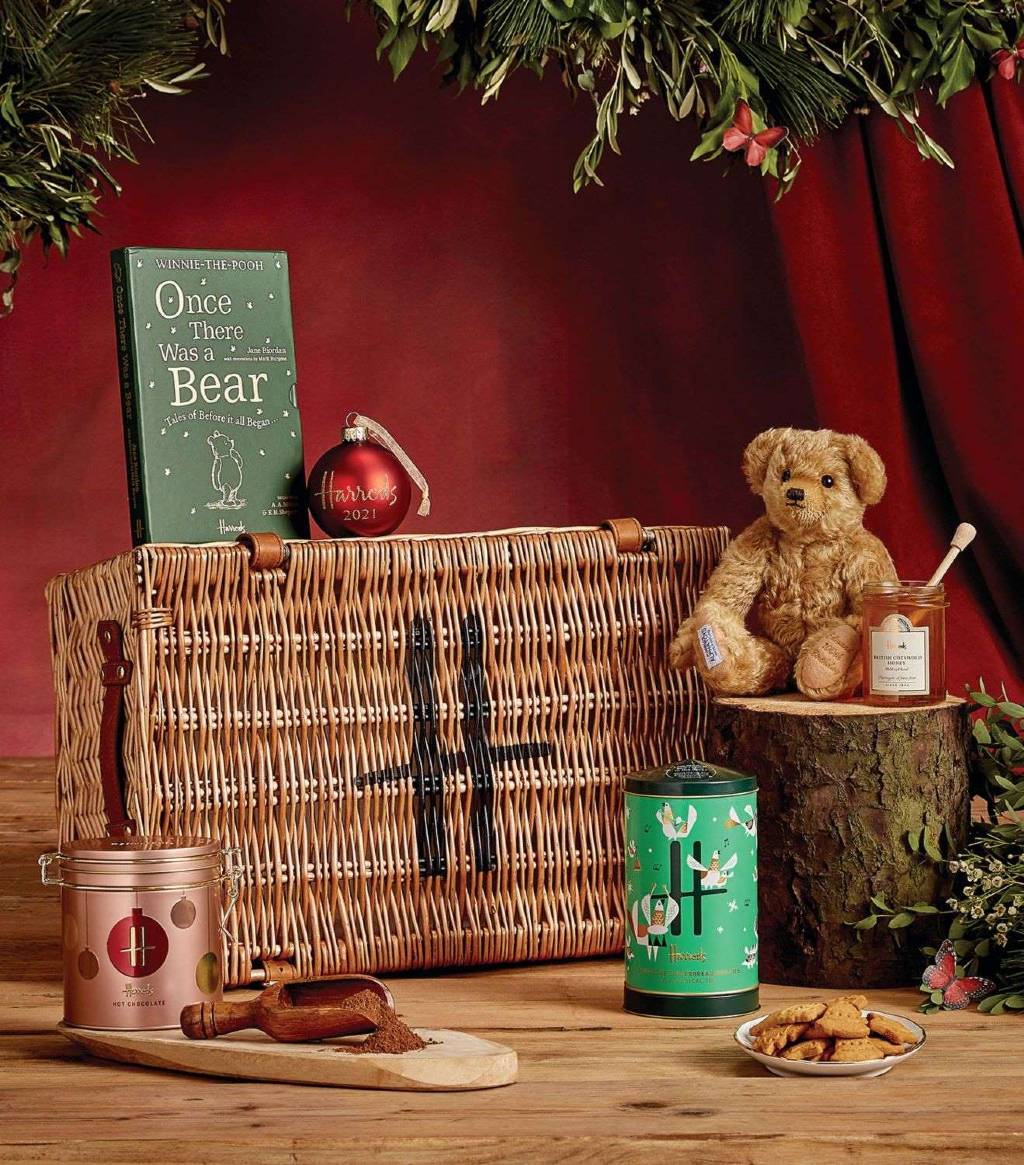 Winnie-The-Pooh and Harrods
Did you know that Christopher Robin's beloved Winnie-the-Pooh was a bear bought from Harrods? To mark 100 years of Winnie-the-Pooh, Harrods has created a Winnie-the-Pooh Once There Was a Bear Hamper which is perfect for fans young and old. Included in the wicker hamper is a new book Once There Was a Bear, full of exciting adventures from across Harrods and beyond, a Harrods 2021 bauble, hot chocolate, a jar of honey, a musical tin of gingerbread biscuits and of course a teddy. The Edward bear is handcrafted in England using the same traditional skills and materials that were used to create the original Winnie-the-Pooh bear.
Winnie-the-Pooh Once There Was a Bear Hamper, £225 www.harrods.com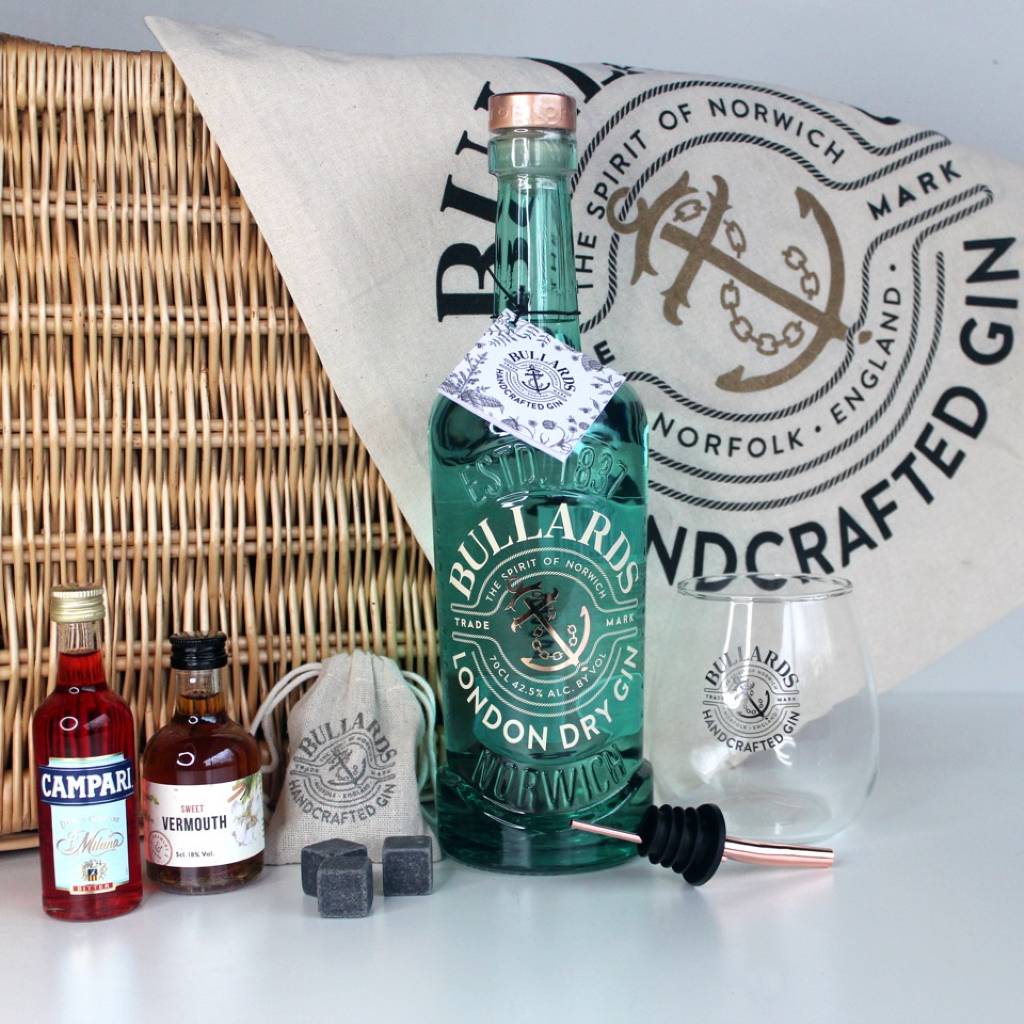 Bullards Spirits
Know a budding mixologist or a Negroni fan? Bullards Spirits Negroni Cocktail Hamper includes their classically smooth London Dry Gin, a mini bottle of Campari and sweet vermouth, a Bullards glass, copper pourer, canvas tote bag and some gin stones to keep your drink cool without diluting it. Fancy another cocktail? You'll also find an Old Tom Collins Cocktail Hamper, Rambling Strawberry Cocktail Hamper and a Foraged Bramble Cocktail Hamper with a bottle of Bullards Coastal Gin.
Negroni Cocktail Hamper, £75 www.bullardsspirits.co.uk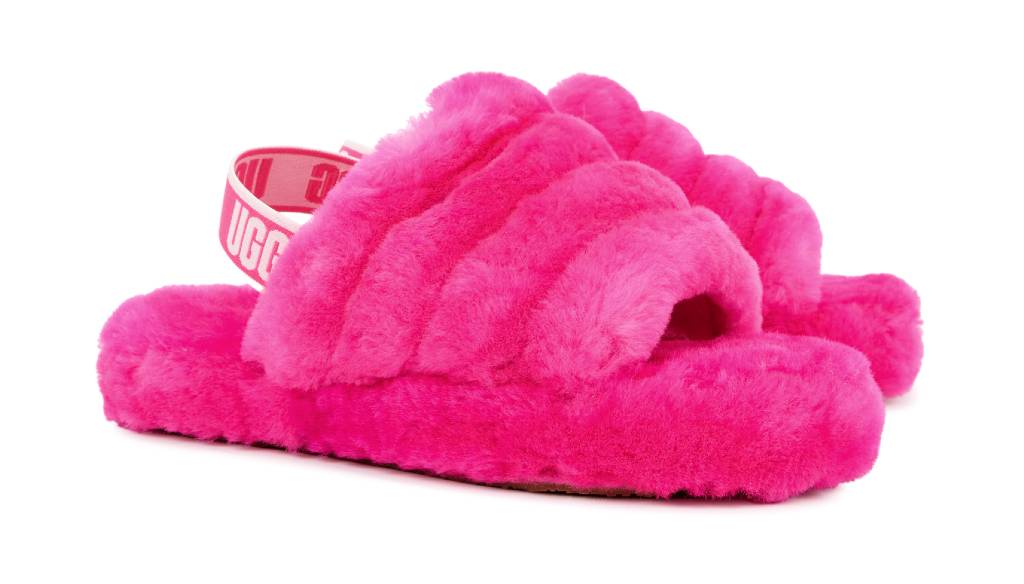 UGG
What do you get when you combine a slipper with a slider? UGG's Fluff Yeah shearling sliders! And what a statement shoe it is, it's both super soft and practical with a rubber outsole so they can be worn outside and a plush band to stop them slipping off whilst running around. And with adult Fluff Yeah's available you can match your mini-me.
UGG Fluff Yeah Shearling Sliders, £65 www.harveynichols.com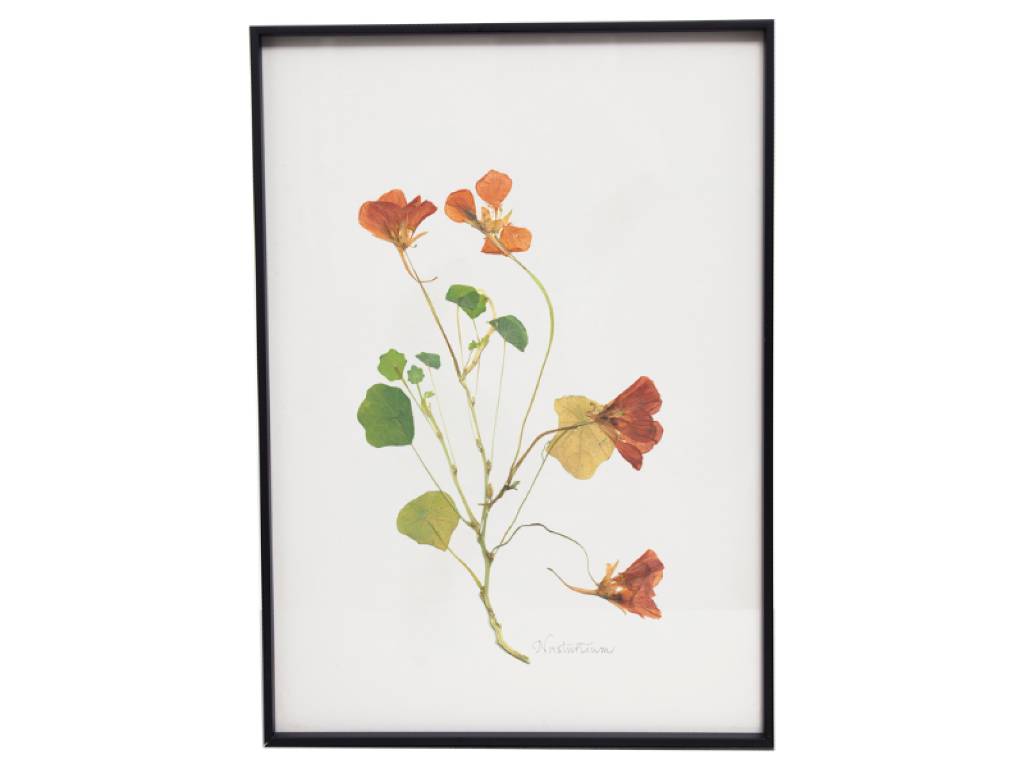 JamJar Edit
Preserved using the traditional method of flower pressing and framed at Peacock Yard, South London these delicate, simple botanical pressings celebrate the fleeting beauty of flowers. They're the perfect addition to an existing botanical collection or the inspiration to start your collection.
Nasturtium Botanical Pressing, £195, www.jamjaredit.co.uk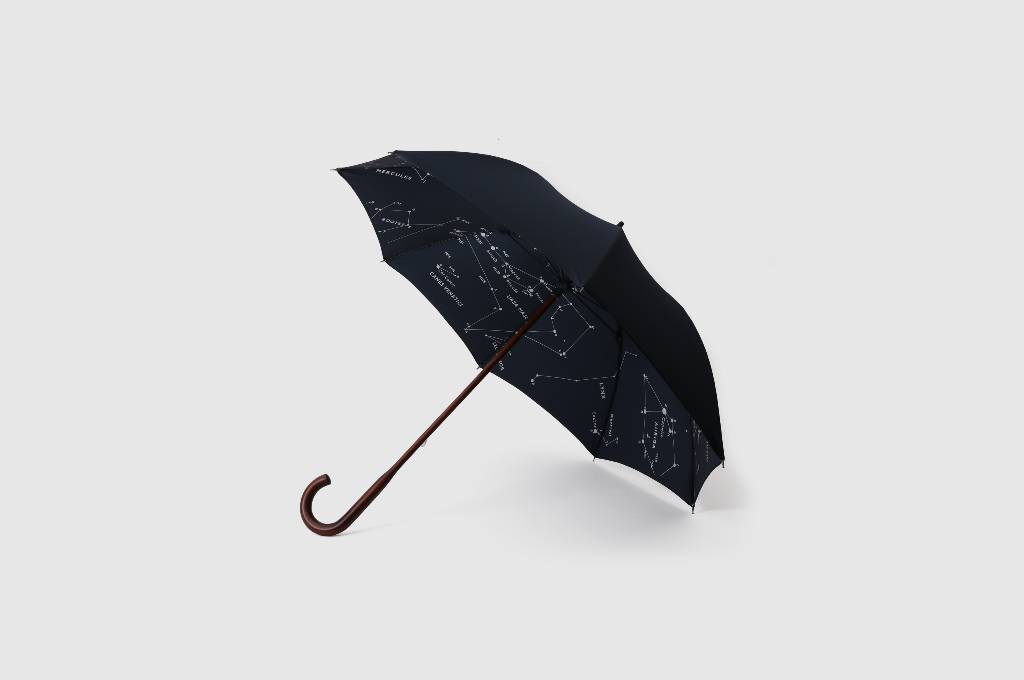 London Undercover
An umbrella might not come straight to mind when you think of Christmas presents, but London Undercover's should. The quintessential British umbrellas are handcrafted using the finest materials and craftsmanship and come in a number of sizes and designs, (we're fans of their classic umbrella which features a map of the constellations on the inside). If you're after a practical present with a luxury twist, this is the one - after all you can't give them socks a fifth year in the row.
Navy Constellation Classic Umbrella, £79.17, www.londonundercover.co.uk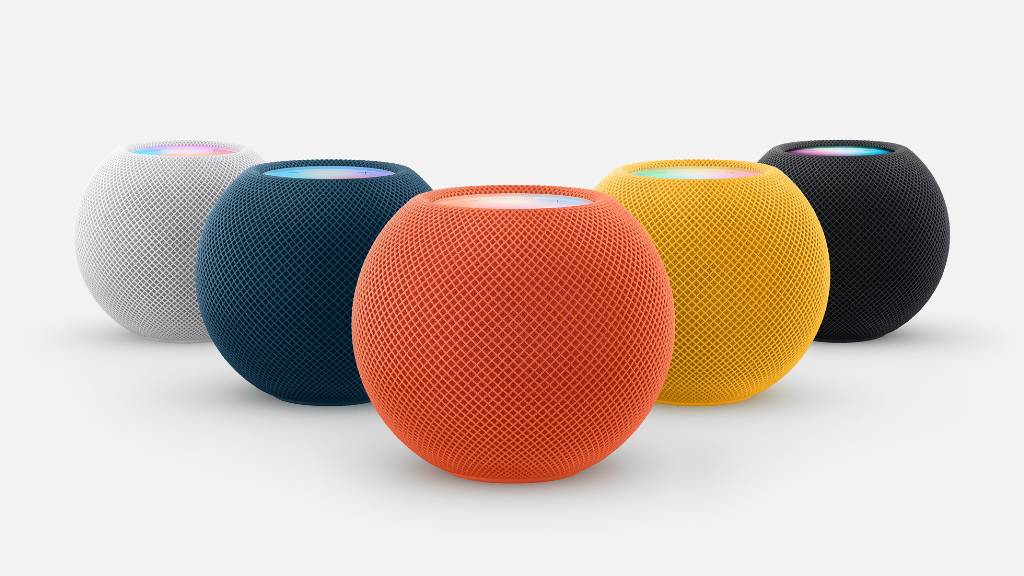 Apple
Apple have recently released the latest version of the HomePod mini and this time they're available in orange, yellow and navy. And whilst it might be small at just 3.3 inches tall, this little smart speaker is a lot more than just a speaker. Want one more than one? They can be synced up throughout your house to all play the same song or a different song in every room, plus having two in one room turns them into a stereo pair. Alongside this it has a whole host of features like providing daily updates, voice recognition and personalised recommendations and controlling smart home accessories. Hey Siri, play 'Greatest Christmas hits'...
HomePod mini, £89 www.apple.com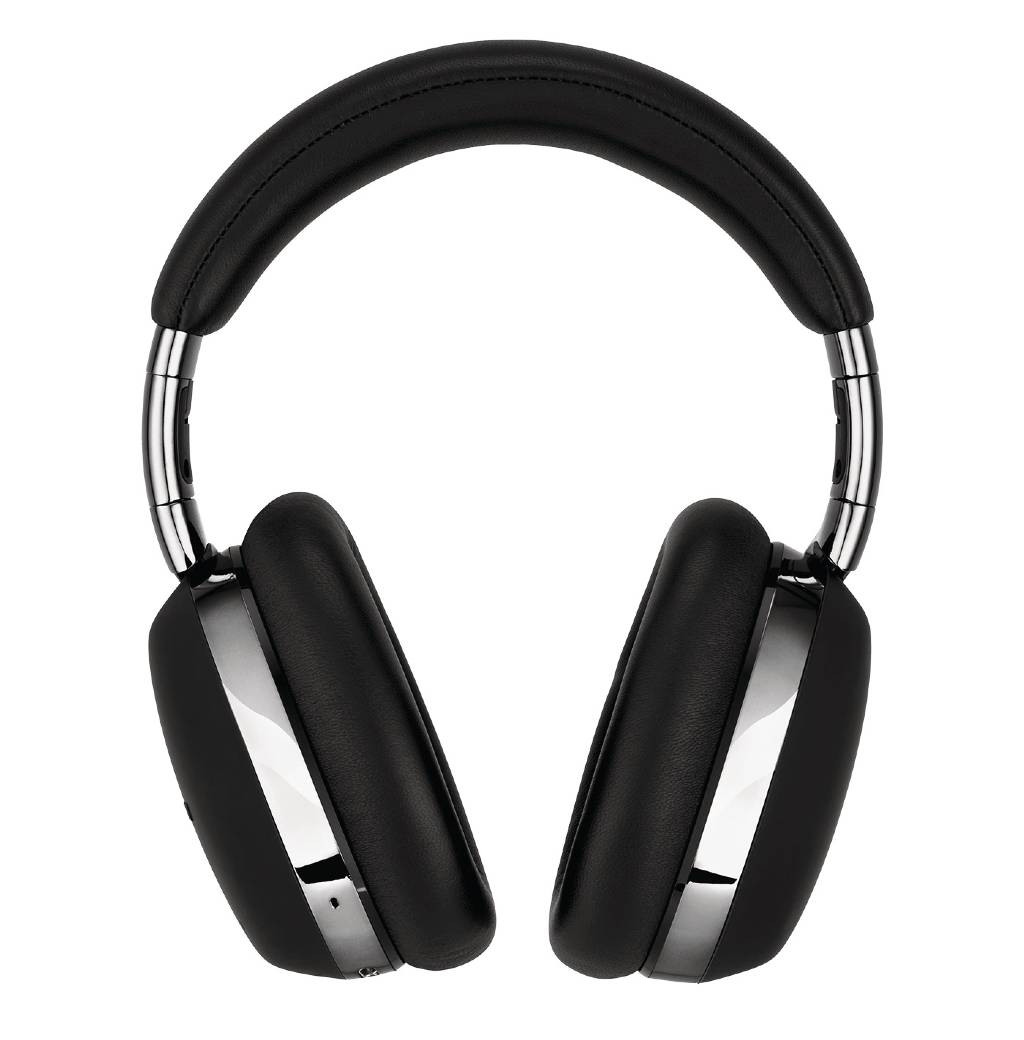 Montblanc
For when you just need to block out the world around you and lose yourself in your music there are the Montblanc MB 01 headphones. They're also handy if you're looking for perfectly clear conference calls... but that's not so fun. Featuring Active Noise cancellation (ideal for travelling) and Google Assistant, these headphones are ready for all occasions, giving you the ultimate in sound quality and comfort.
MB 01 Over-Ear Headphones UltraBlack Edition* £525, www.harrods.com
(*Image is of MB 01 Over-Ear Headphones)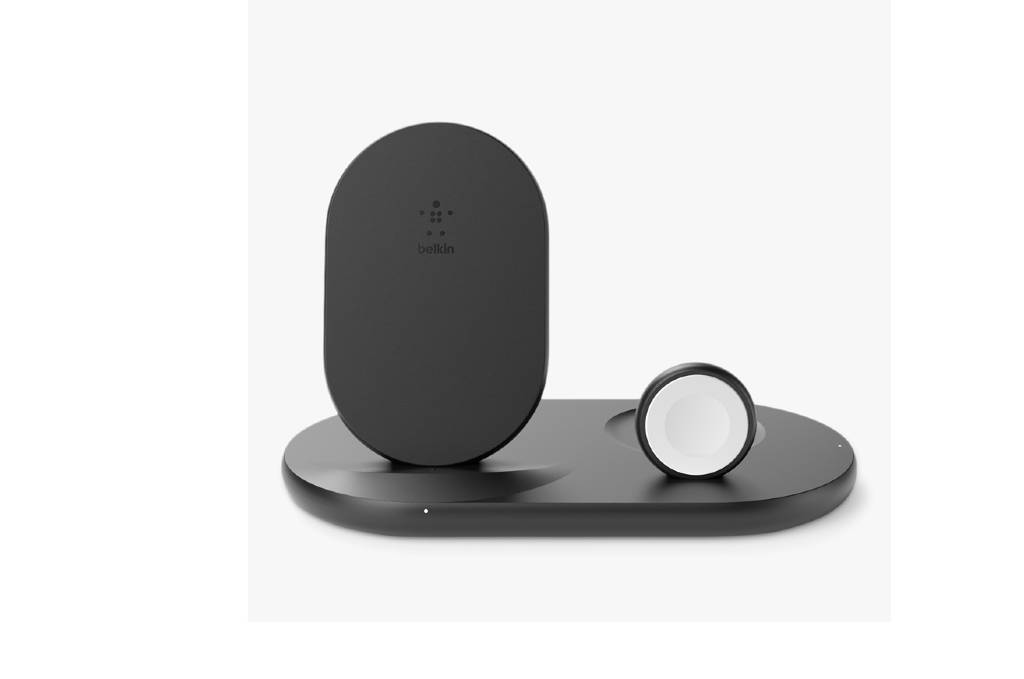 Belkin
Know someone who is always losing their charger? Then this gadget is their new go to. This handy 3-in-1 charging station from Belkin lets you easily charge your Apple Watch, iPhone and AirPods all at the same time and in the same place. And it looks pretty slick too.
Belkin 3-in-1 Wireless Dock Charger for Apple Watch, iPhone and AirPods, £99.99, www.johnlewis.com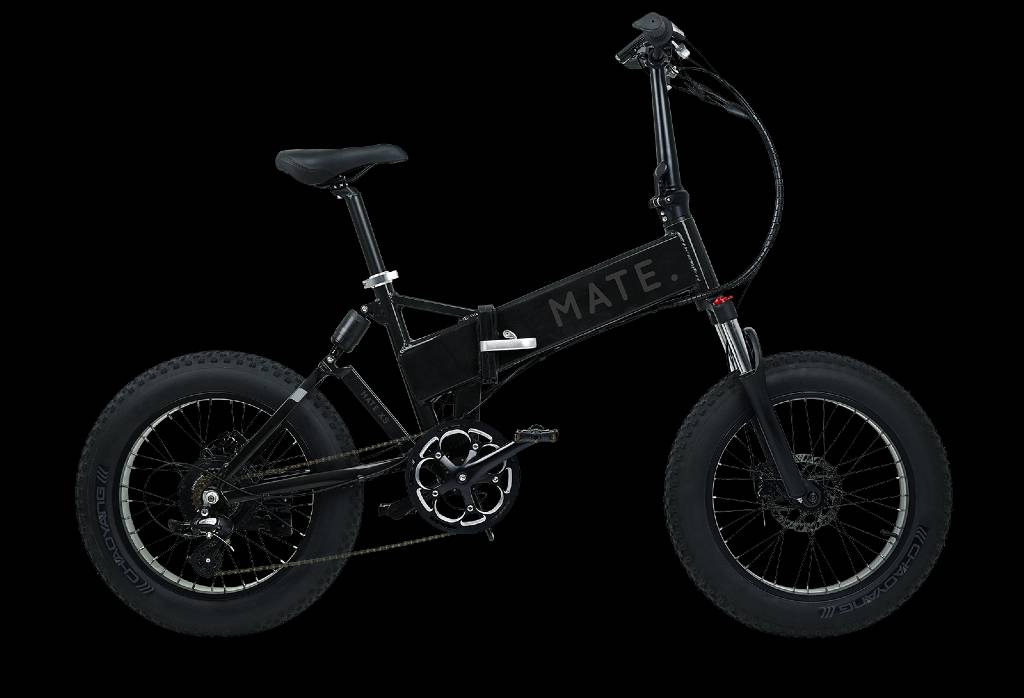 MATE
Want a bike that you can take on all your off road adventures? The bold MATE X e-bike has bigger tires and full suspension so you can take the path less travelled - leave London behind and really get out there. Packed full of features like an intelligent LCD display, 8-gear shifting and a Hi-torque 48V battery to make hills a breeze, the MATE X e-bike can travel up to 120km in one charge too. Nifty.
MATE X e-bike, £2549 www.harveynichols.com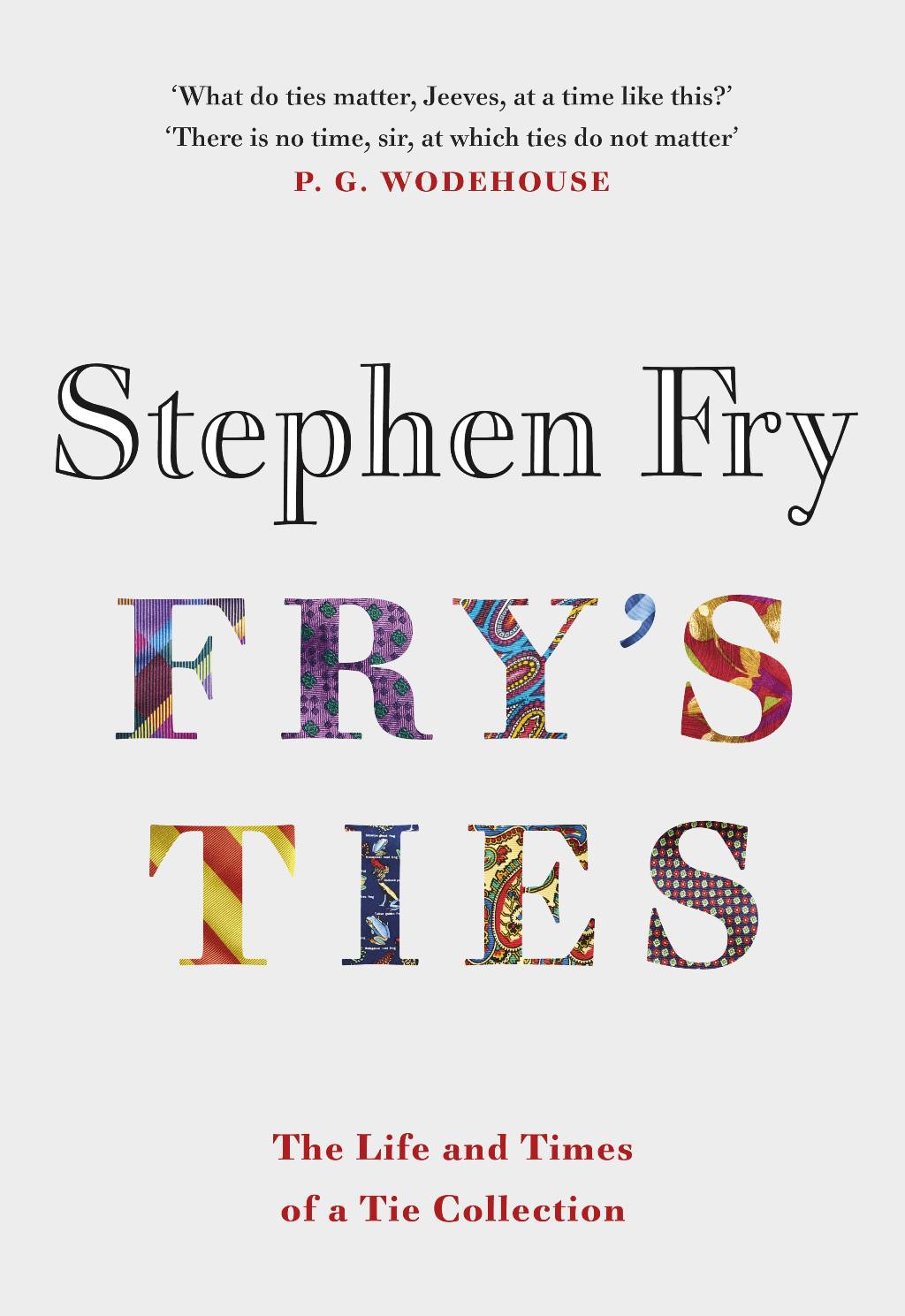 Waterstones
'A well-tied tie is the first serious step in life' - Oscar Wilde. Stephen Fry's latest book, Fry's Ties is dedicated to, as the name suggests, the tie in all its splendour from the history, the makers and the designers to Stephen's love of ties and his tie collection which is now well into the hundreds. It's the perfect book for dipping into over the Christmas period whilst you pick over a cheeseboard.
Fry's Ties: Signed Edition, £14.99 www.waterstones.com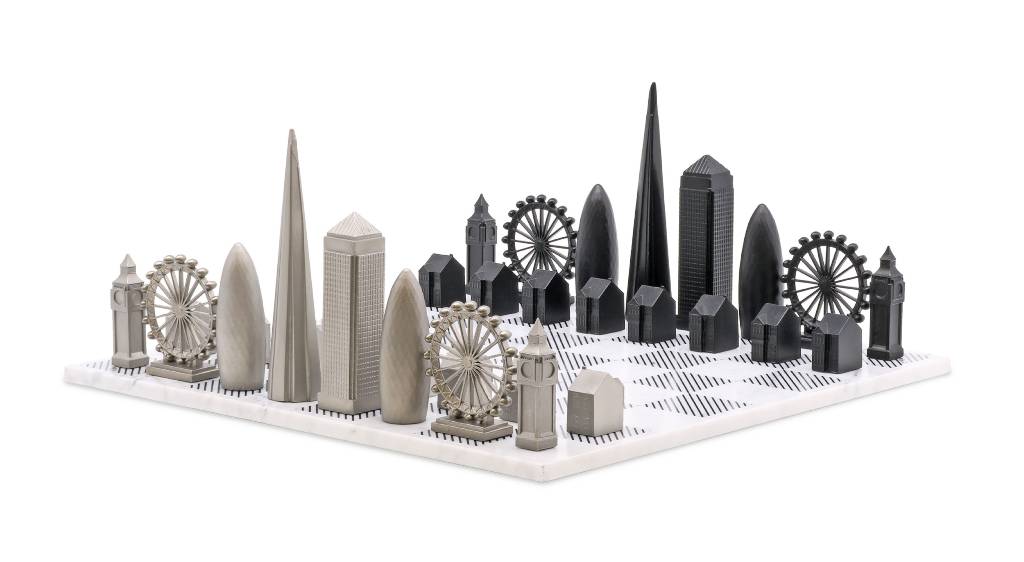 Skyline Chess
There are chess boards and then there is a Skyline Chess board. Founded by two London-based architectural designers, Skyline Chess takes iconic skylines and creates them into beautiful chess pieces using the finest materials and craftsmanship. Skylines include the likes of San Francisco, Dubai and Paris, but of course we would choose London. For a truly unique chess board choose their bespoke design. Ideal for chess fans or those who want to add a little flair to their office.
Stainless Steel London Edition, from £495 www.skylinechess.com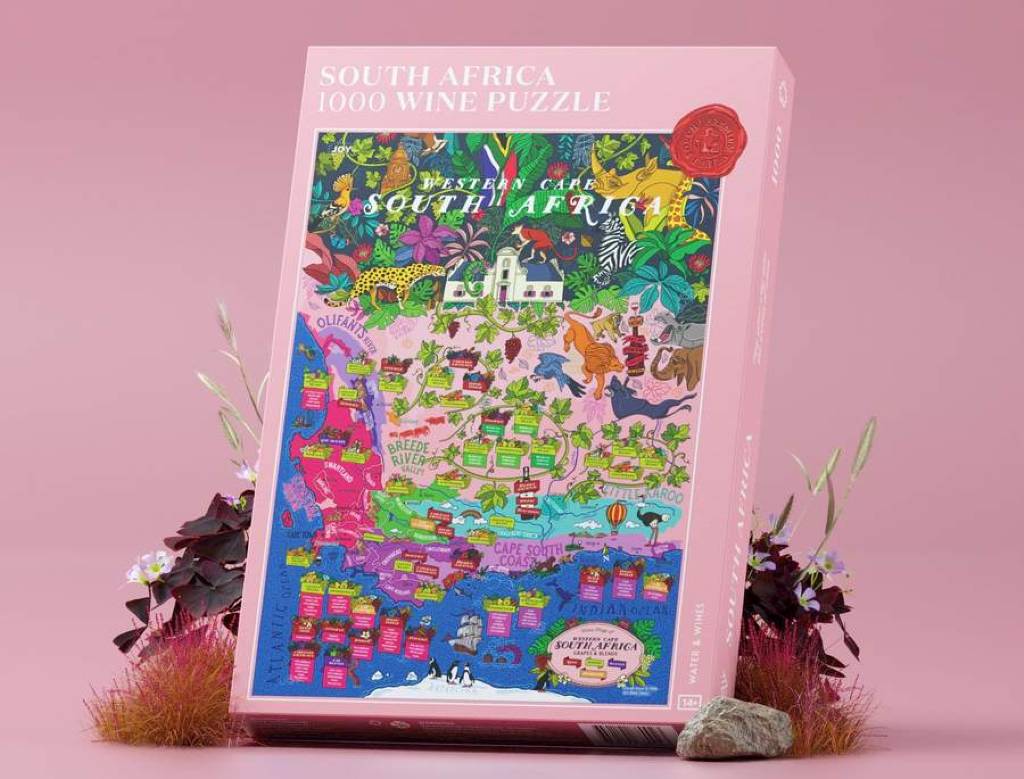 Water & Wines
Water & Wines is a female-led company founded by sommeliers creating beautiful hand-illustrated jigsaws of wine regions, key appellations and grape profiles made from sustainable materials. Or for the whisky fan there's a puzzle of Scotland. It's the perfect present to accompany winter afternoons spent by the fire with a glass of wine and a cheese board and if that wasn't reason enough, they also plant a tree and make a donation to improve global access to safe drinking water for every item sold.
South Africa puzzle, £35 www.waterandwines.com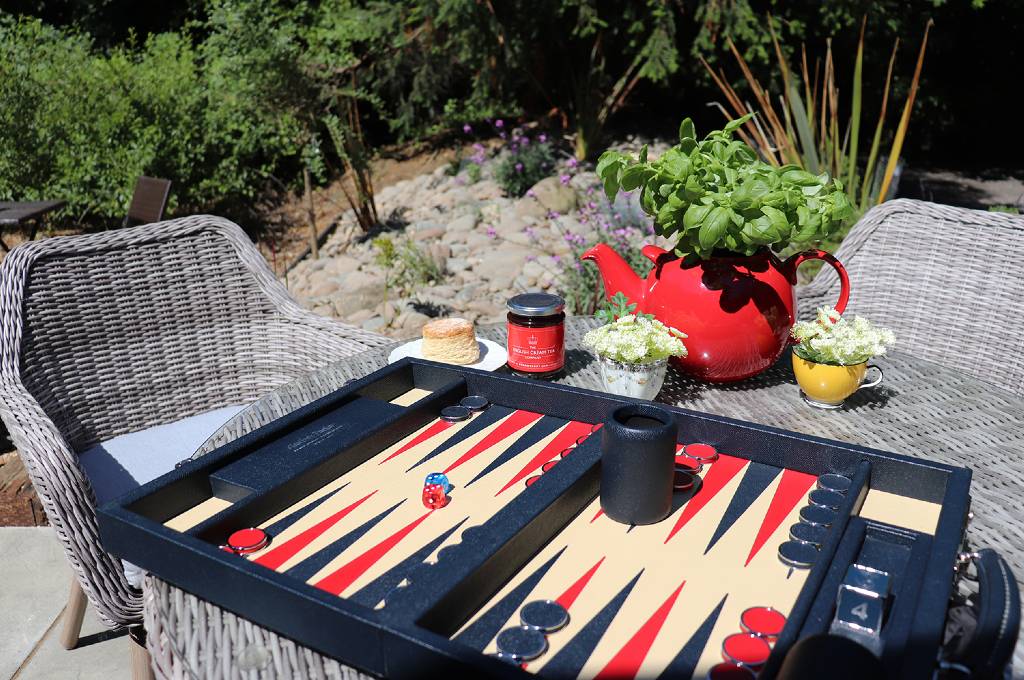 Geoffrey Parker Luxury Games
Want a truly bespoke edition of a classic game? Then look to Geoffrey Parker. Take their luxury leather and metal backgammon set, with over 28,500 possible colour combinations and the addition of your initials, logo, crest or a handwritten message embossed inside the case, chances are it's highly unlikely you'll ever find the same case - if you do, well, we didn't say it was impossible... Handmade in England using the finest craftsmanship, these Backgammon sets are sure to be the next family heirloom.
Leather and Metal Luxury Backgammon set, from £3650- £4950 www.geoffreyparker.com