By Emily Gray
Published 15/09/2021
For those weekends in London when you don't want to stay in a large hotel, when a little more personality or privacy is needed then look to the townhouses. From iconic Soho stalwarts to the homes visited by literary greats, here are six of our favourite to book now.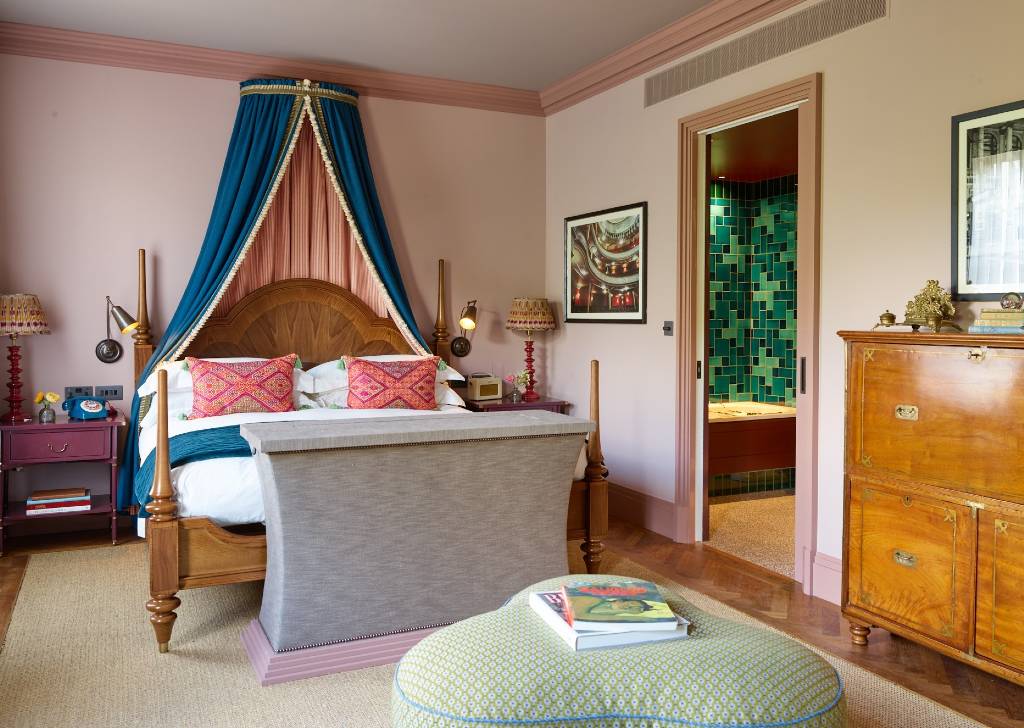 Beaverbrook Town House
The next chapter in Beaverbrook's story is Beaverbrook Town House, the sequel to their luxurious country pile in Surrey. Inhabiting two Georgian townhouses on Sloane Street and made up of 14 suites (named after 14 famed London theatres), this second Beaverbrook instalment reimagines Lord Beaverbrook's vibrant and flamboyant life in London. Art takes centre stage with over 500 pieces throughout the house including Japan's great masters, vintage images of London and historic theatre memorabilia. When it comes to dining you'll find the Fuji Grill designed by Nicola Harding which serves up signature Beaverbrook dishes such as 'Charcoal' Wagyu with Juniper Miso whilst the bar, Sir Frank's Bar, embraces Japonisme-inspired Art Deco.
www.beaverbrooktownhouse.co.uk
Henry's Townhouse
Once the home of Jane Austen's brother, Henry's Townhouse is a glamorous, discreet seven bedroom townhouse in Marylebone inspired by the Georgian period and Jane Austen's time spent there. Each one of the rooms is named after someone in Henry's life, from the Eliza (named after his wife) with its king four poster bed and pale pink shades to the Frank (named after Henry's brother) with its red and gold tones and canopy twin beds. Whilst it's tempting to stay in your room this is one townhouse you'll definitely want to explore. Host a private dinner in M .Halavant's Pantry, the traditional Georgian inspired kitchen, take tea in Jane's Sitting Room or our favourite, head to the quirky Carriage Snug based on a railway carriage, for a nightcap. Set up for private hire, with its own first class chef and house staff, Henry's Townhouse is ideal for family celebrations and weekend gatherings.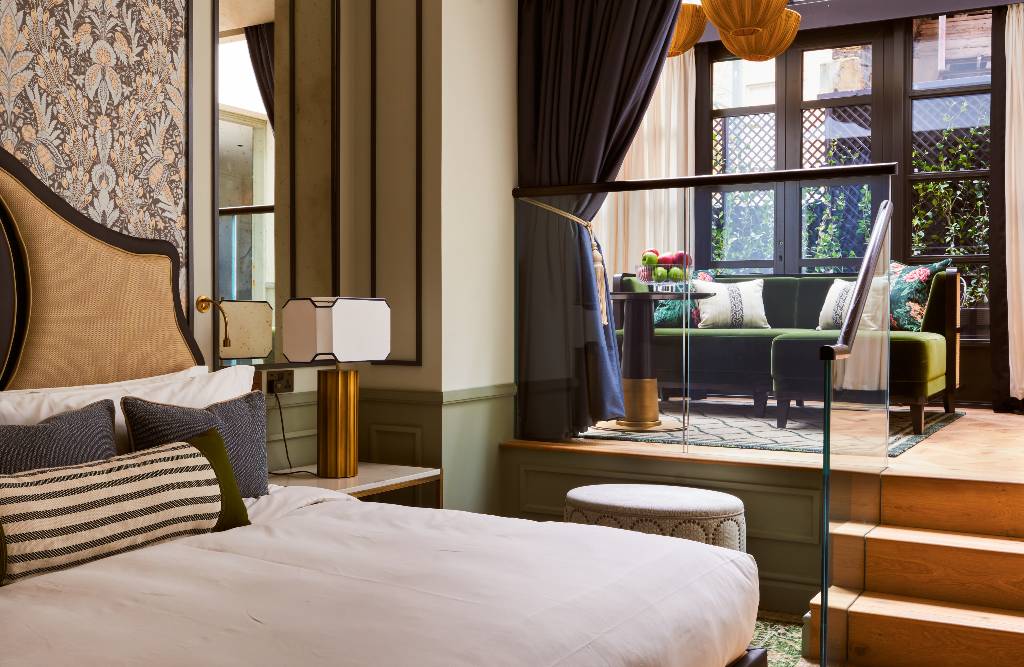 The Mayfair Townhouse
Part of the Iconic Luxury Hotels (Chewton Glen, Cliveden House, Lygon Arms), The Mayfair Townhouse is the younger, more flamboyant, whimsical sister. Stretching across seven Georgian buildings on Half Moon Street, it's ideally located between Green Park and Hyde Park Corner providing a respite from the bustling cities. It's both wonderfully untraditional and traditional at the same time; witty, playful and enchanting. Guestrooms range from the cosy Cabin Room through to the grand Two Bedroom Loft Suite, an impressive 77sqm room and accompanying private terrace. Whichever room you choose you'll find a complimentary minibar with their 'townhouse tipples and dandy candy'. As for Listique, you'll find us at The Dandy Bar sipping a Cloud Nine Fizz.
Kettner's
A Soho institution, Kettner's townhouse is thought to have opened in 1867 by Napoleon III's cook, over its colourful 154 year history it's welcomed the likes of Oscar Wilde, Sir Winston Churchill, Edward VII and his mistress actress Lillie Langtry and Robert De Niro. To visit now and stay in one of the 33 bedrooms, you'll need to be a Soho House or Soho Friends Member, rooms range from Tiny right up to the Jacobean Suite, which features its own private entrance, emperor bed, freestanding copper bathtub and measures an impressive 80sq m. Dine in the 1920s Art Deco inspired Vinyl Bar, catch up in the Sitting Room or while away the hours in the late-night Champagne Bar with its French glass lights and original mosaic-tile floor.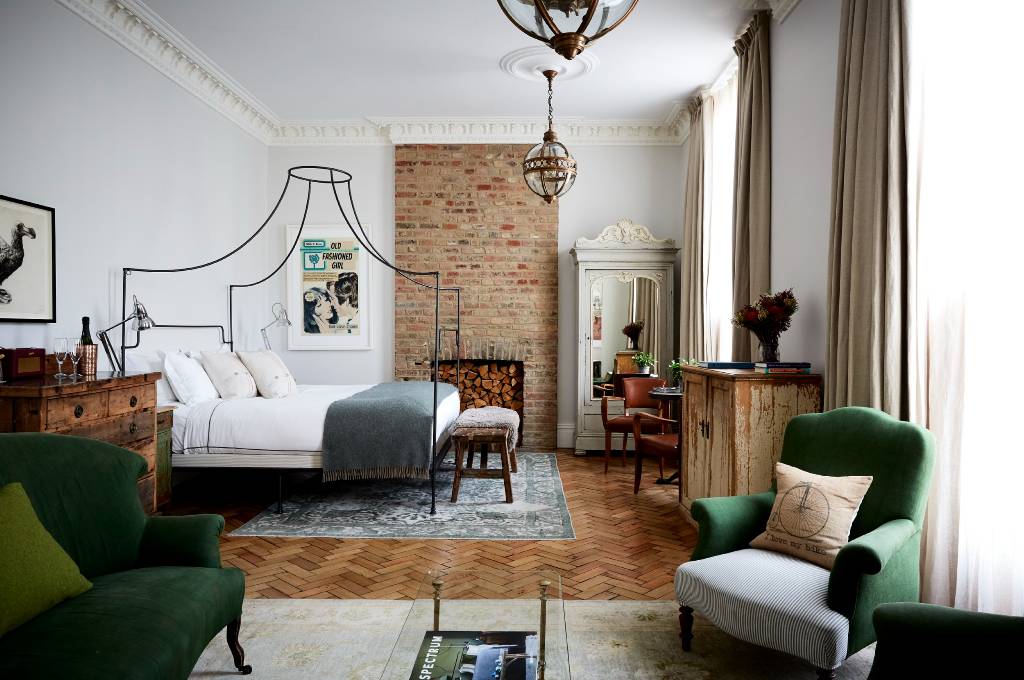 Artist Residence, London
In a quiet enclave of Pimlico, sits Artist Residence, London an understated, homely townhouse filled with eclectic but luxurious furnishings, think exposed brick walls, wool blankets, parquet flooring, velvet wing back armchairs, freestanding baths, vintage radios and pops of colour from bold artwork. Planning a romantic weekend or want a bolthole for a cosy winter staycation, you can't go wrong with the Grand Suite. A long soak in the cast iron bathtub, a stack of buttermilk pancakes for brunch in the cafe, a walk around Chelsea, cocktails in their moody subterranean bar and then a long sleep in the four poster super-king bed. Heavenly.
Zetter Townhouse
Eccentric, decadent and instantly loveable, Zetter Townhouse is split across two residences, one 13 bedroom residence in Clerkenwell once 'owned' by Great Aunt Wilhelmina. And the other, a 24 bedroom townhouse on Seymour Street, the former home of Wilhemina's notorious nephew, Seymour, once a bit of a dandy they now refer to him as Wicked Uncle Seymour. From afternoon teas in front of the fire to late night soirees fuelled by cocktails from their award-winning cocktail lounge the two Zetter Townhouses are graceful but not pretentious, fun but not gimmicky.