By Elizabeth Greatrex


Visually, Nina Naustdal is incredibly hard to miss. A Norwegian beauty, she is sure to be seen wearing one of her extravagantly designed bespoke dresses, a pair of high heels and a full face of make up. To her credit, she lives, breaths and wears her trademark of 'normal is boring' on a daily basis. It's definitely hard to imagine that Nina would ever lounge around in sweatpants on her day off, or have time to for that matter. This fashion designer may be a pretty face, but as I came to find out, she is a lot more than that. Growing up watching her grandmother tailoring dresses, Nina decided against both a career in athletics and a passion for the law to follow her overpowering dream of becoming a fashion designer.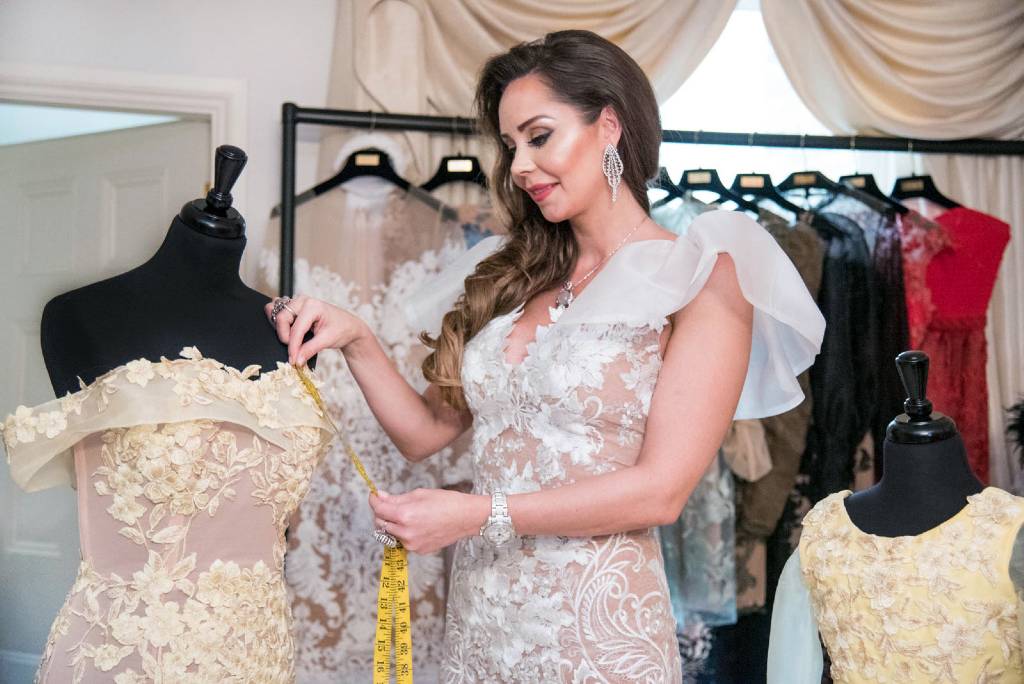 A relocation to London, a marriage and three kids later, Nina is a savvy, business minded fashion designer, who has her own successful brand and works from her showroom by appointment in the heart of Chelsea. Here, Nina and her team create visually stunning, handcrafted designs for high-end, celebrity clients who aren't afraid of a hefty price tag or a bold taste in colour and style.


Following the successful showcase of her new collection at Buddha Bar on the 17th September, we visited Nina at her showroom to chat about her designs, her life as a high-end fashion designer, her reality TV work and how she balances her crazy life with having three kids.
Elizabeth Greatrex: Did you enjoy your show at Buddha Bar the other night? We certainly did.
Nina Naustdal: Thank you for coming. It was a perfect night. The guests were really happy and the feedback was amazing. I think everybody really pulled it off. From my side it was a really great night.
EG: Do you have a favourite dress from the collection?
NN: For me, when I create these dresses, every one is like a piece of art. They all have their own personality. But the dress I was wearing on the night is quite personal to me. I think it's a very elegant and chic dress.
EG: Would you say that 'normal is boring' is a major inspiration for your collections in general?
NN: 'Normal is boring' is my trademark. It stands for a kind of lifestyle, and individual people, too. Everybody has a different personality. The clothes that one would wear on a daily basis might not necessarily represent who the person truly is. I think my pieces really reflect the personality of the person.
'I think my pieces reflect the personality of the person.'
EG: Describe the style of your dresses in three words?
NN: Powerful, elegant and strong.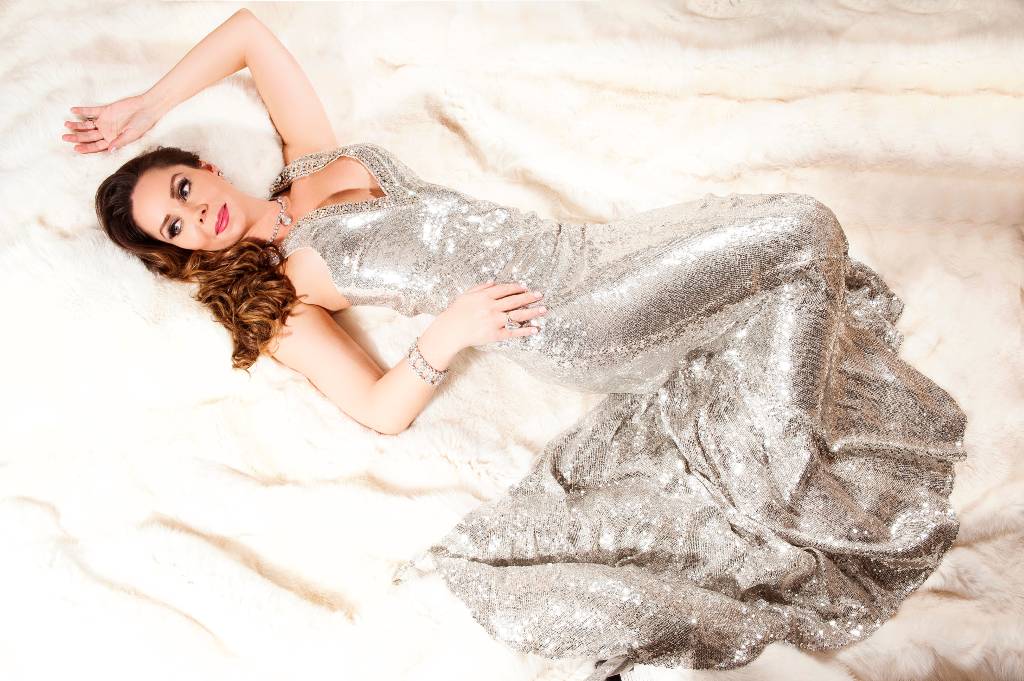 EG: Where do you see people wearing your designs? What type of events and occasions?
NN: People go to charities, birthdays, high-end dinners. With social media today, people don't like to be seen in the same clothes, and there is always a little bit of competition about being the best dressed I think in general with every woman. So, on that side of the business, it's a good reflection on what I do. In general, the main high-end pieces, especially the couture, will be worn at charity balls, red carpets, award ceremony's or their private birthday parties.
EG: Do you use real fur?
NN: There are a lot of conversations about using real fur these days. In the luxury market, I do have a lot of clients that do request pieces with real fur. So obviously, when they are requesting pieces like that I do try to cater to what they want. I try to please the client.
EG: Do you have any fashion designers you particularly admire?
NN: Throughout my career the main person that I admired was Karl Largerfeld. Sadly, now he is gone, but I greatly admired the work he did for Chanel. He made the brand what it is today. The whole concept of what he did, who he became in the end and how he remained completely true to himself throughout all those years was inspiring.
EG: Do you enjoy the freedom of expression in London?
NN: I think it's obviously something that should be everywhere. Everybody that is born into this world should be able to be themselves, to say what their opinion is and do things that they wish to do. People have that opportunity in London to be themselves. We are in an environment with so many creative people, and people that have a voice and will stand up and say what they want to say. So yes, definitely, I think that's amazing.
'Everybody that is born into this world should be able to be themselves, to say what their opinion is and do things that they wish to do.'
EG: If you weren't doing this, what would you be doing?
NN: I was a top athlete in Norway growing up. I ran for my country from the age of 7-19. That was a very big part of my life. I went to top athletic schools, we were training all the time and competing in Europe and Scandinavia doing competitions. That was a natural side of me to continue pursuing. But there is a certain age when you have to choose to sleep properly and eat properly. It's a big commitment to be on the same level. I decided that I wanted to some travelling and then pursue fashion and other things as well. Career wise, if I could have chosen something else I would have been a lawyer. I've always loved the process of analysing, investigating, researching and problem solving. I'm also not scared of confrontation. That was always an interest growing up, and it was something I actually considered quite seriously.
EG: Would you ever do a Stella McCartney and look into creating a sportswear line?
NN: It's funny you mention that actually. I was discussing that recently. Obviously, I have a background in sports, so it would be a natural thing for me to learn towards. Even if I don't create the whole line myself, I'd like to collaborate with a brand that is already established. To do designs for a brand, that would be interesting.
EG: Why did you decide to have the showroom by appointment instead of a store?
NN: My clients really appreciated the intimate feel of not having the pressure of walking into a store. They knew what they wanted when they came here. I was able to provide them that intimate, one-to-one service. It worked really well.
EG: What's your favourite part of creating a new line?
NN: The whole process in itself. But I think, when it comes together and you see the results of the time, effort and work that you've put into something. You get the pleasure of enjoying that piece and actually seeing that piece on someone. That it's complete. That's the most satisfying feeling.
EG: What is the typical client that would come to you?
NN: There is a variation. But the majority of women that actually come in and purchase is probably someone that knows themselves quite well. They know their personality; they are not afraid of standing out and of being in the limelight, as my designs are quite strong pieces. I want every woman to look perfect within her own body and shape. We look to enhance whatever we can when she comes to buy a dress from me.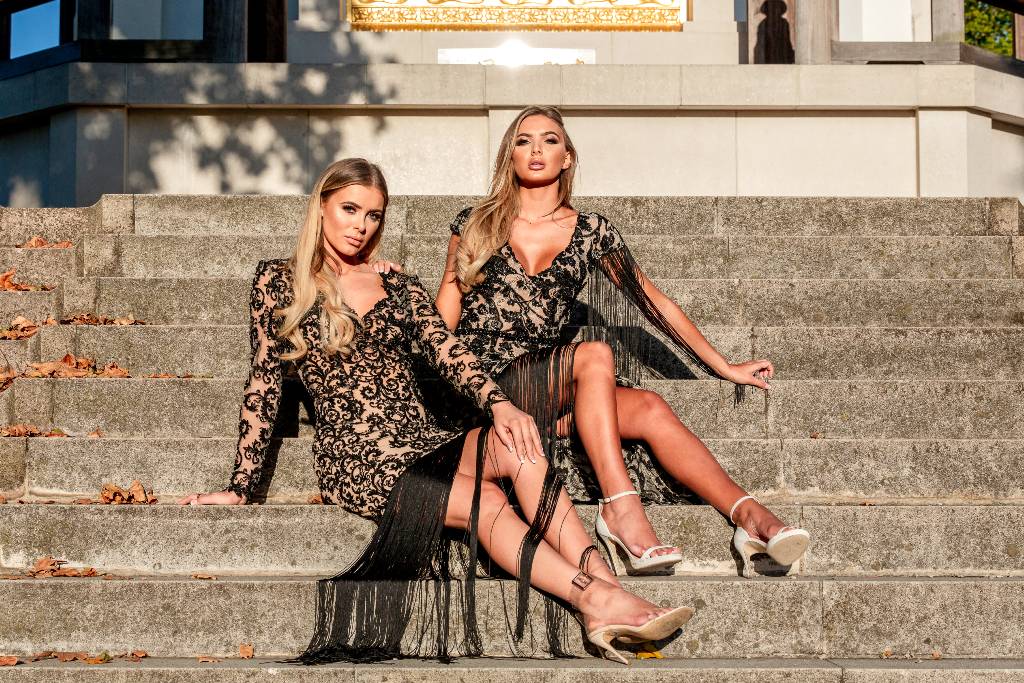 'I want every woman to look perfect within her own body and shape.'
EG: Your passion for designing started at a young age, when did you know that it was going to be what you really wanted to pursue?
NN: My grandmother was also in the business when I was growing up. When I was around 11, I sat down with her and said we're going to make a dress from scratch. So, I made the design, and her tailoring was perfect. I think that process of making something specifically that you wanted and that you couldn't find anywhere else, and making it perfect, inspired me to go more into the business. Fashion is one thing but actually creating a brand from scratch and doing your own designs is a little bit different. Being next to her all those years growing up, and being a part of seeing what she was doing really inspired me to continue. Then I studied at SMOD fashion school in Norway.
EG: Do you mind having your children in the public eye, do you mind them being photographed?
NN: I think people are becoming more and more aware of those kinds of things. They even do lessons at school now about social media. They're making parents very aware that you have to be careful. But I think it's a choice I made being a public person myself, and allowing my kids to be so involved in everything I do. I put down some ground rules on what to be careful with and how to manage everything before I said, 'ok, I'm going to make them a part of being on TV programmes with me or let them have their own Instagram accounts.'
It's also about your relationship with your kids I think, and how you're communicating with them. You have to be on top of those kinds of things. But then again, you can't control everything 100%. If you're going to go and say 'no, no, no', they might go and do it behind your back anyway. So I believe it's better to have an open relationship. You know, it's everywhere today. They're going to explore into those areas regardless. I'd rather be part of that and have that communication with them growing up than them doing it and not telling me because I said no.
'I think it's a choice I made being a public person myself, and allowing my kids to be so involved in everything I do. I put down some ground rules on what to be careful with and how to manage everything before I said, 'ok, I'm going to make them a part of being on TV programmes with me or let them have their own Instagram accounts.'
EG: How do you coordinate having such a busy lifestyle and having a family as well? Is it hard balancing being a mother with being a businesswoman?
NN: I'm a little bit of a perfectionist. I need to be super organised. Having a good team next to you and working with good people helps. I think that's key. I just make sure that I'm really on top of things. I'm a little bit diary obsessed. I note everything down and print everything out. As long as everything is there then I can balance my own time and make sure I know what I'm prioritising my time on. I divide my time between the people that work for me, the kids and the business. I manage it day-by-day, week by week.
Most women today have children. Most of them do work, they manage somehow. The majority of women are doing that today and have been doing that forever. It's just about yourself and how you do it. I have a close relationship with my kids and I prioritise the time that actually matters with them, and what matters for them. It's same with the work. I deal with the stuff I really need to be there for and do myself, while the people that work for me deal with the emails and paperwork that aren't so important. So I really save my time and energy on things that make a difference.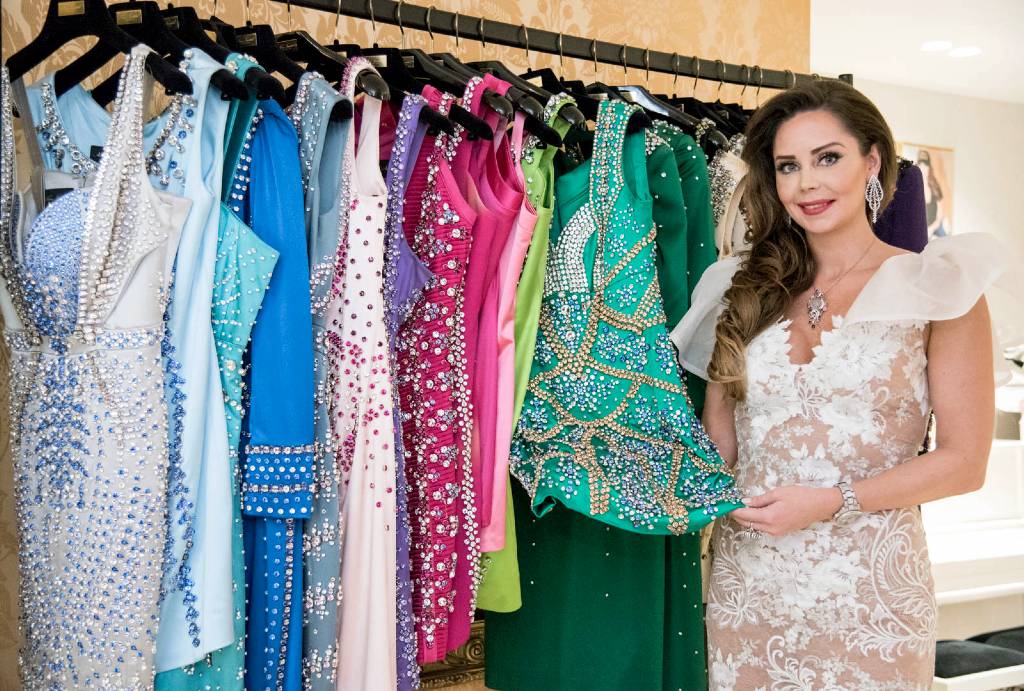 EG: I've heard that the fashion is quite toned down in Norway, and that Norwegian's in general are scared to stand out with what they wear. Did that inform your way of doing fashion at all?
NN: In Norway, there is something called Janteloven, which in Norway means that you're not supposed to be different, you're not supposed to stand out. When it came to my designs, I didn't know how the Norwegian people were going to react, as they are the complete opposite to what the typical Norwegian, Scandinavian woman probably would wear. I think things have changed a lot though. Scandinavian women are taking more chances, they are trying to do their own style, and now obviously with social media opening up, they are trying to more of their own thing. In general, even if it's not the typical Norwegian dressing, they appreciate the beauty of what I'm creating and the work that I'm putting into it. So I think they are supporting me as a fellow Norwegian in that way.
EG: What was your first job in the fashion industry? Did you have an intern period?
NN: Actually, I didn't have a first job or an intern period. I would rather say I had a lifelong experience through watching my grandmother teaching me. So I was kind of blessed on that side, you know, I grew up with that next to me. That was kind of my learning process, and in seeing all the ins and outs of the business. After I finished studying in Norway I came to the UK and I did some studying here and then I travelled and then I met my husband, then I had my children, then I was building my company. Then I launched my business after my third child. In between then there wasn't much time for anything else!
Q: What does luxury mean to you?
A: Luxury is a high-end product, when I think of luxury I think of something unique, I think of perfection. It should be something different. Obviously very often it comes with you paying more money for it that normal products.
EG: What advice would you give budding fashion designers looking to make it?
NN: You could say this is a cliché, but work hard. Really believe in yourself. Take chances. Don't be afraid to fail because this industry is not straightforward everybody is going to have different opinions. Just go for what you want and if it doesn't go great the first time just do it differently next time and keep going. Go for what you believe in and what you stand for. If you work for it, you will get somewhere with it.
When meeting someone of Nina's standing, most people are likely to have some assumptions or expectations. It is easy to assume that they might be snobbish, smug or superficial. Yet, I don't see any of those traits in Nina. Yes, every area of her life reflects her success: A high-end, eponymous fashion brand, a showroom on Kings Road and three different private schools for each of her children. But in person, Nina is down to earth, easy to talk to and quick witted. I like that about her. Although she is dolled up on the daily, glamour is only one part of who she is. Clued up on life, she certainly won't pull any punches. She believes in her brand, prioritises her kids and is unapologetically Nina Naustdal.
Watch this space.
You can take a look at Nina Naustdal's new collection here.