By Emily Gray
Published 12/11/2020
The countdown to Christmas is almost here! Whether you want to toast every day with a dram, a spritz of new perfume or luxury chocolates, there's an Advent calendar for that. We've rounded up eight of our favourite luxury calendars available now...all you have to do is try sticking to opening just one door a day!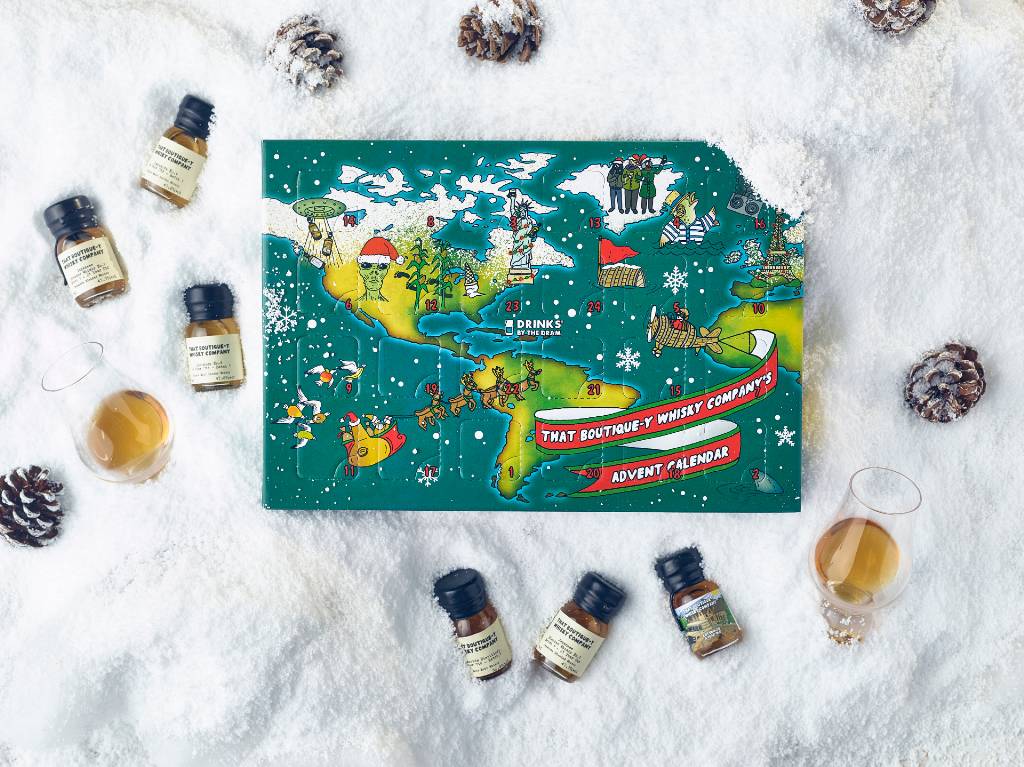 That Boutique-y Whisky Company
Fancy a daily nightcap in the run up to Christmas? Then let us introduce you to That Boutique-y Whisky Company. They've teamed up with Drinks by the Dram to create an Advent calendar that takes you on a trip around the world via 24 different whiskies! What's inside is supposed to be a secret but we can let you in on one or two, you'll find a Inchfad Batch 1, 13 year old and Cotswolds, Batch 1, 3 year old - but you'll have to wait to find out the rest or use the illustrated windows on the box for clues if you're a bit of a whisky connoisseur.
That Boutique-y Whisky Company Advent Calendar, £99 from thatboutiqueywhiskycompany.com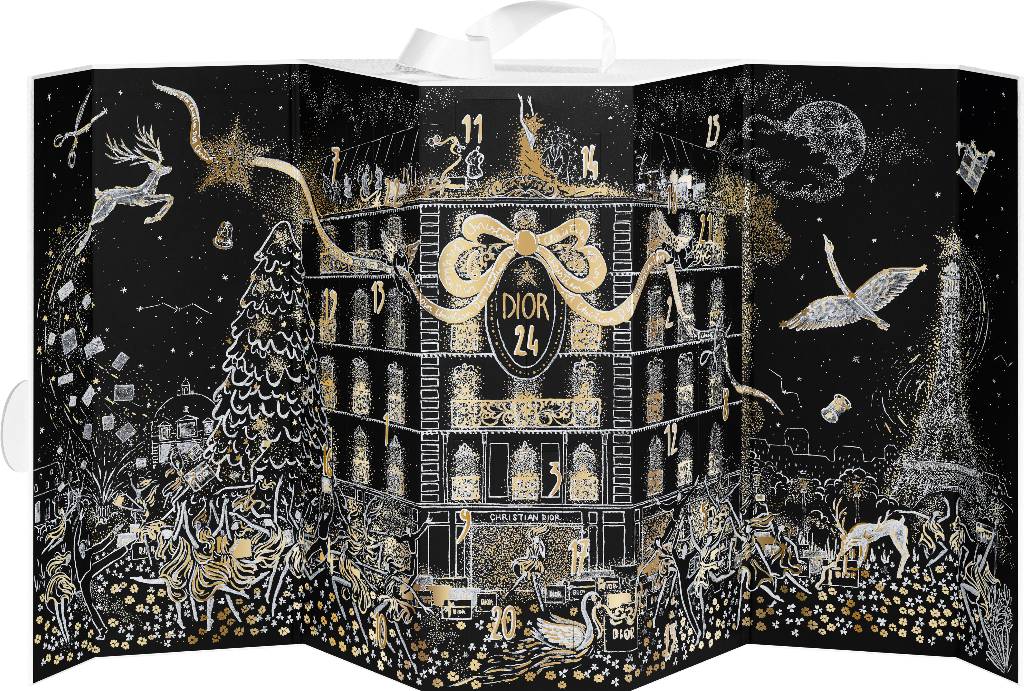 Dior
As far as enchanting Advent calendars go it doesn't get much more magical than Dior's Beauty Advent calendar. The work of artist and illustrator, Safia Ouares, the calendar depicts a starry night in Paris where deer prance in the sky and a ballet takes place in the streets. Inside the calendar is rather marvellous too, you'll find 24 Dior fragrance, skincare and makeup miniatures including Miss Dior Eau de Parfum (5ml) and Capture Youth Glow Booster Serum (7ml).
Dior Beauty Advent Calendar, £340 from dior.com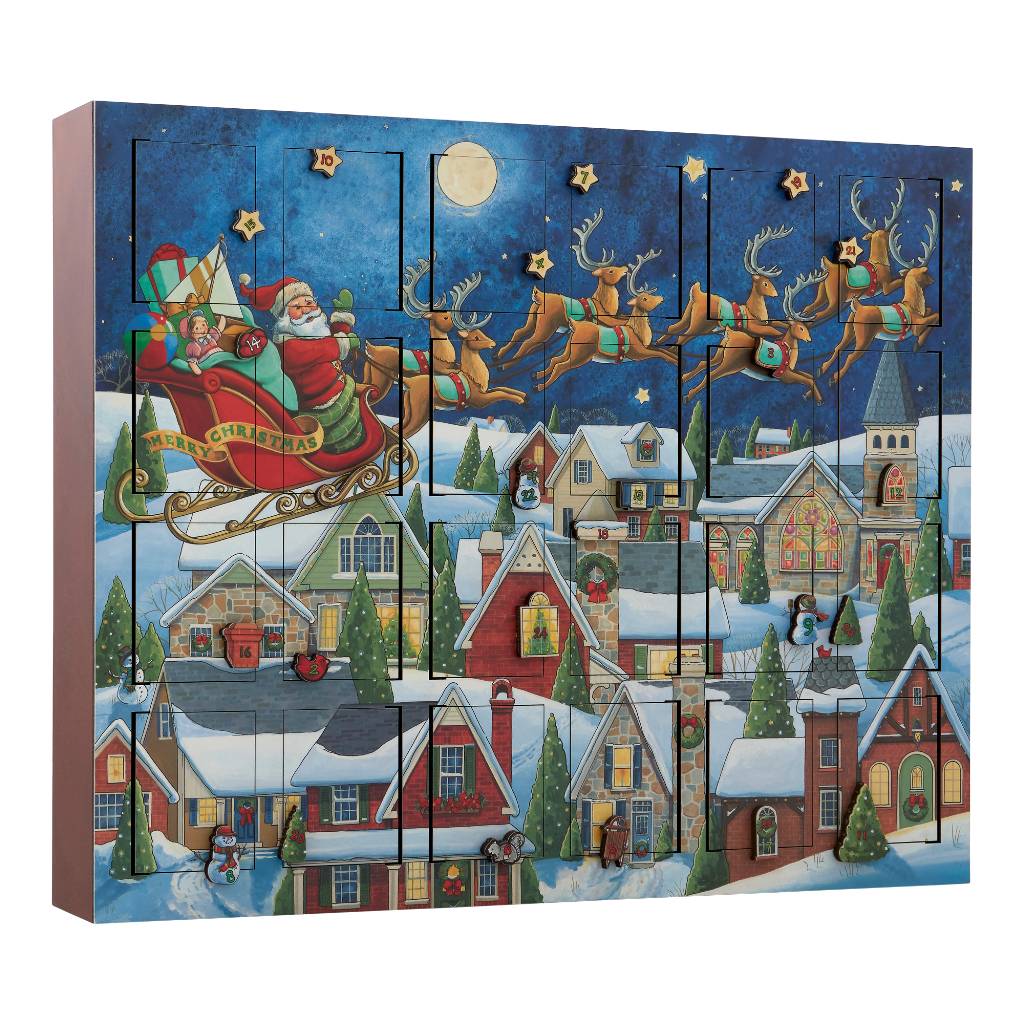 Fortnum & Mason
Feeling a bit Scrooge like this year? No more. This wooden calendar is musical. That's right, start each morning with a merry Christmas tune such as Jingle Bells or God King Wenceslas as you open each door. The calendar arrives unfilled letting you fill it with the recipient's favourite chocolates or gifts, plus it means you can use the Advent calendar again and again. It has family heirloom written all over it!
Fortnum's Musical Santa's Sleigh Advent Calendar, £165 from fortnumandmason.com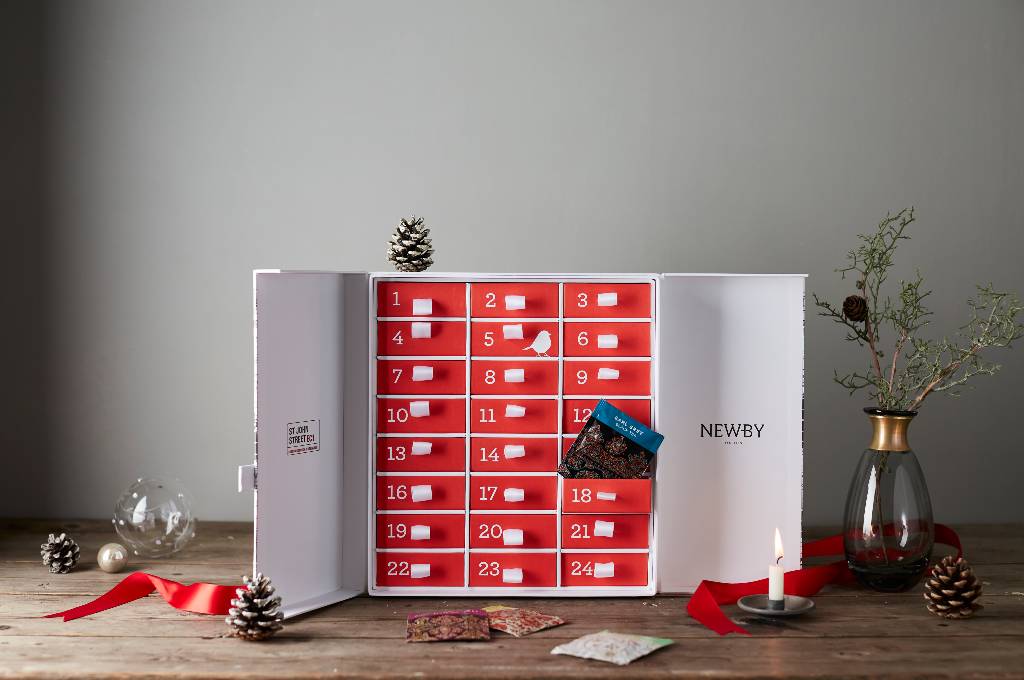 Newby London
Nothing is quite so comforting as a cup of tea, so if you've found yourself boiling the kettle a little more this year we know the feeling. To celebrate their 20th anniversary, Newby has created an exclusive Advent calendar depicting their London Headquarters. The calendar is filled with 24 different luxury blends from Newby's Classic Tea Bag Collection and with four sachets of tea a day it should give you your daily tea fix!
Advent Calendar, £60 from newbyteas.co.uk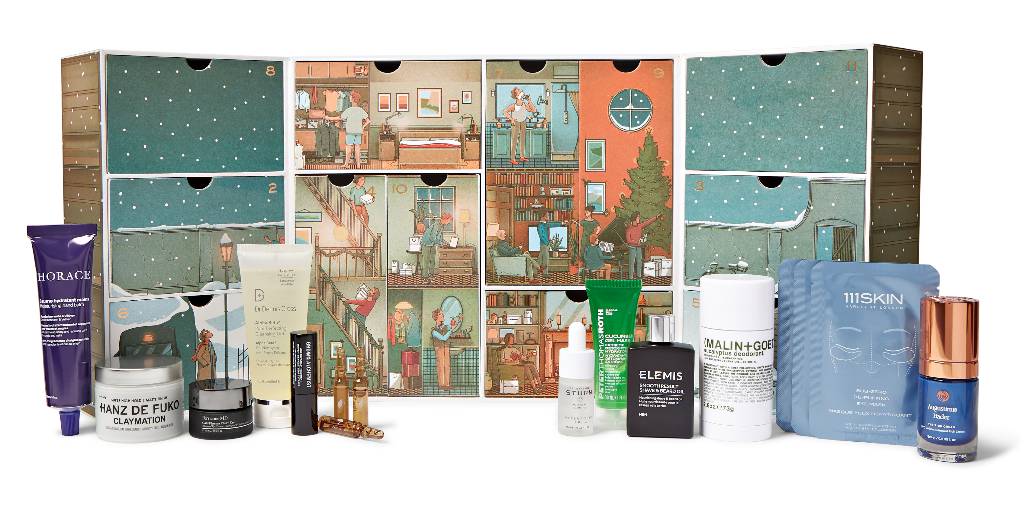 MR PORTER
Looking to up your skincare routine during the winter? MR PORTER's annual 12 Days of Grooming Advent calendar is a curated selection of the best skincare products that the buying team have come across throughout the year. It's the perfect way to discover new products and cult classics like Dr. Barbara Sturm's Hyaluronic Serum, all housed in nostalgic watercolour-illustrated box.
12 Days of Grooming, £105 from mrporter.com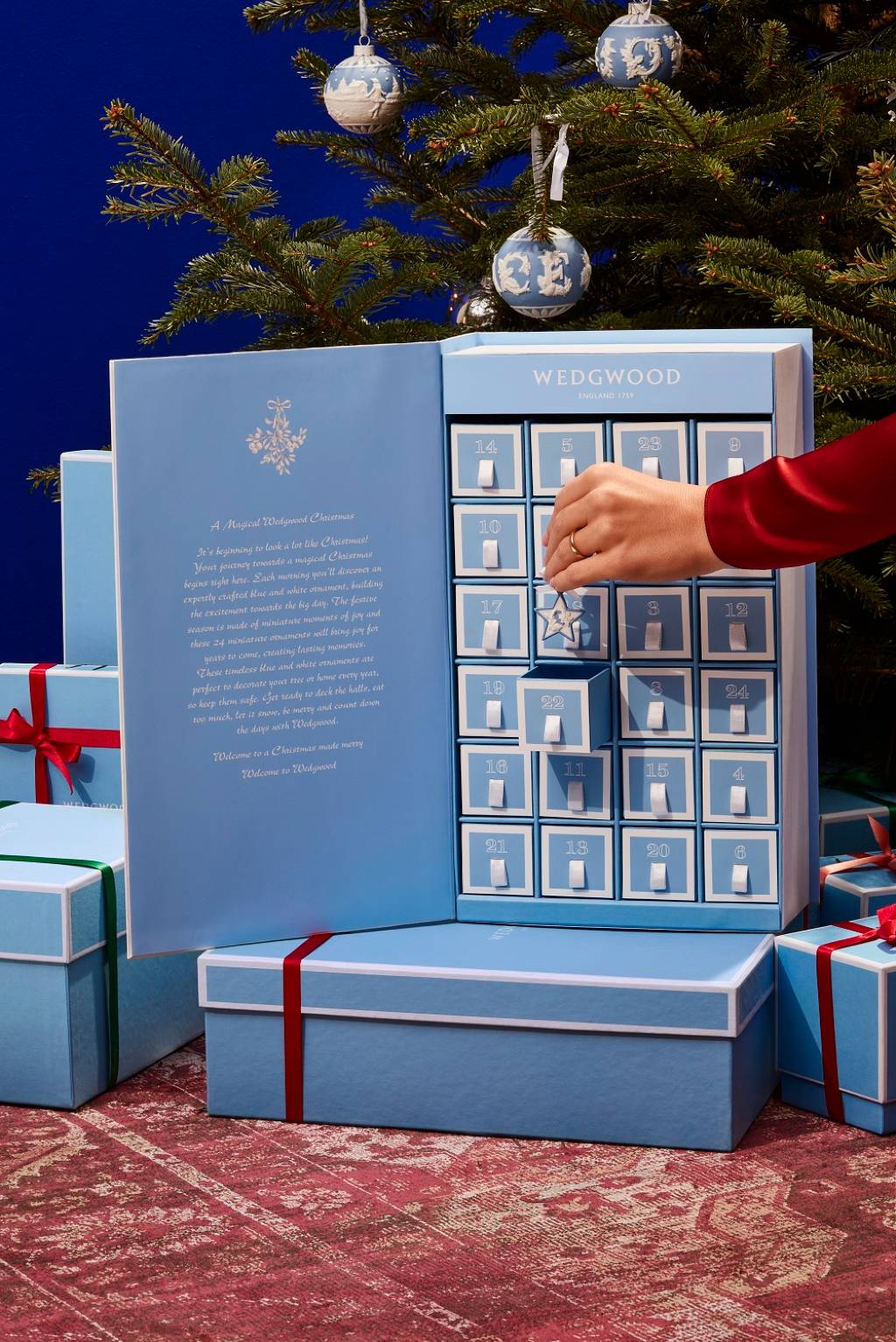 Wedgwood
Are you the sort of family that puts your Christmas tree up as soon as the 1st December arrives (if not even earlier?!) or do you wait until just a few days before? Somewhere in between? Whichever you might be, what will make your tree look particularly spectacular this year, will be 24 miniature blue and white porcelain decorations from Wedgwood. Each strung on white ribbon ready to add to the tree, you'll find Christmas ornaments like a mini bauble, stocking and reindeer and iconic Wedgwood pieces including the Jasper Portland vase. We guarantee this will be a calendar you'll want to cherish for many years to come.
Christmas 2020 Advent Calendar Book, £650 from wedgwood.com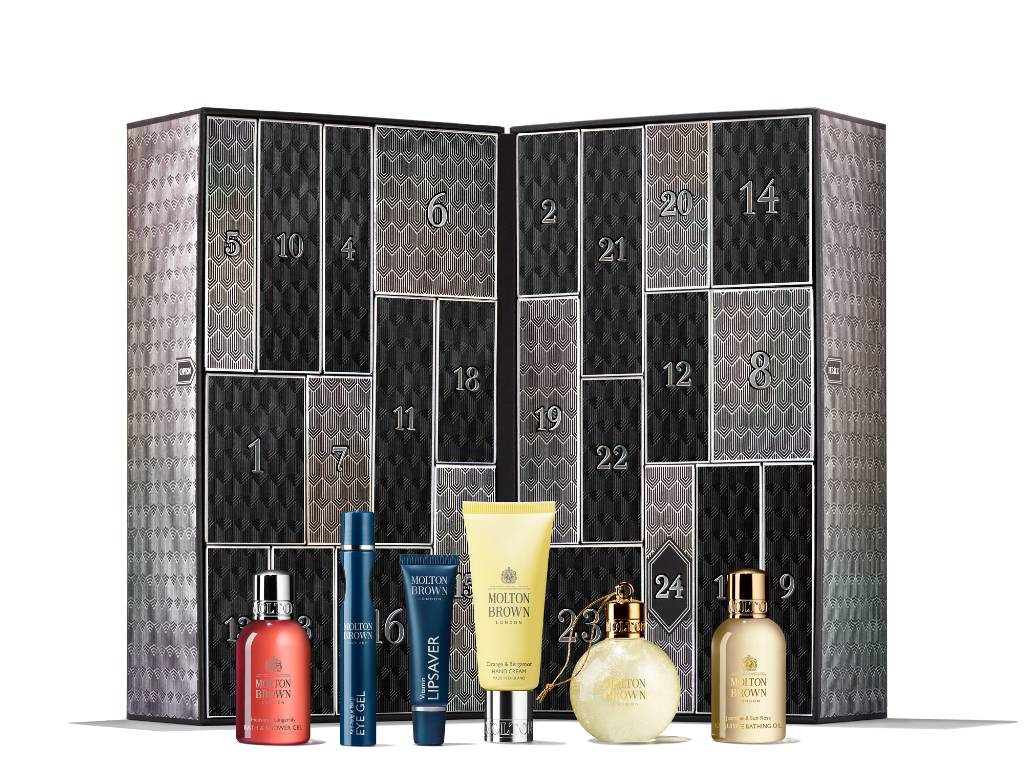 Molton Brown
Let's put 2020 to one side and think about the Roaring Twenties instead. Molton Brown's Luxury Advent Calendar channels the glamour of the decade with its shimmering holographic foil and striking chandelier-esque design. Inside you find equally opulent gifts, including Fiery Pink Pepper Handcream (40ml), Vintage With Elderflower Festive Bauble (70ml) and Delicious Rhubarb & Rose Mini Candle. If you're feeling particularly generous you could share them, but after the year we've had you deserve a present every day for a month...at least!
Molton Brown 2020 Luxury Advent Calendar, £175 from moltonbrown.co.uk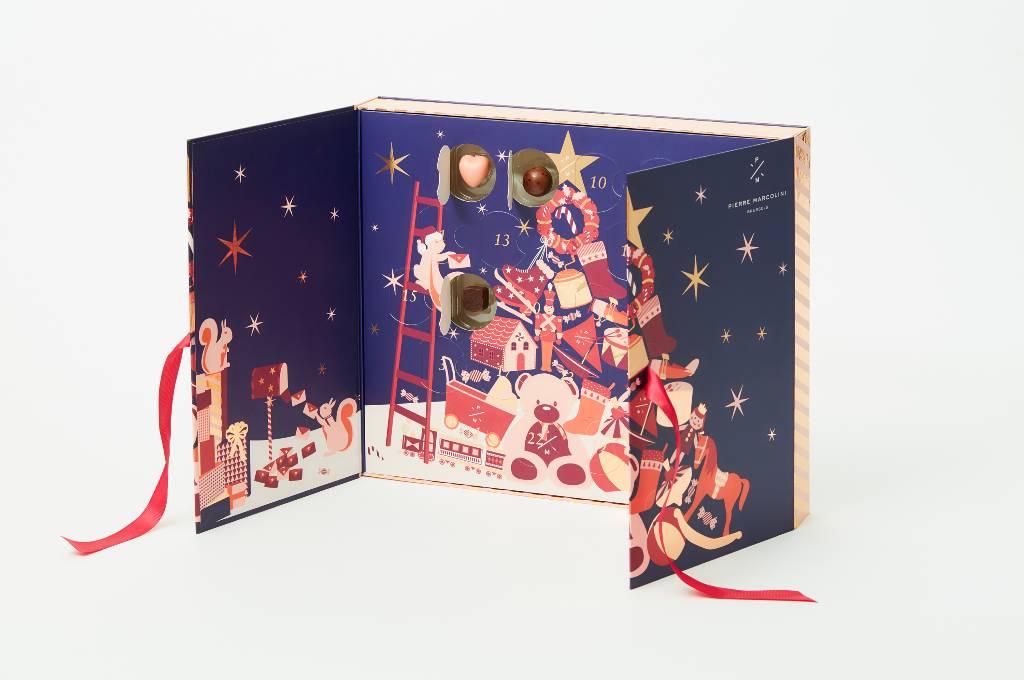 Pierre Marcolini
There are chocolate advent calendars and there is Pierre Marcolini's chocolate advent calendar. Inspired by a children's fairy tale, the calendar opens up to reveal 24 chocolates made up of Pierre Marcolini's iconic chocolates and new seasonal creations. Who wouldn't want to start the day with a Hazelnut Praline Dark Chocolate, a Milk Chocolate Duck or a Milk Chocolate Câlin? You never need a reason to eat chocolate for breakfast, but if you do, surely 2020 and December is reason enough?
Advent Calendar, £49 from marcolini.com